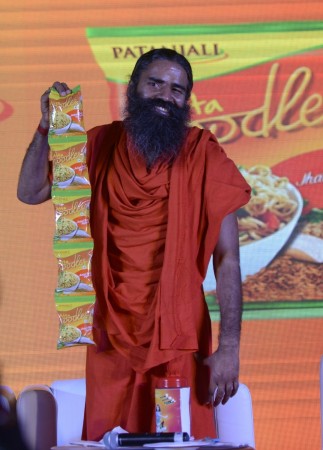 It was barely 10 days ago that yoga guru Ramdev, referred by many as Baba Ramdev, had famously featured on the front page of a magazine in a very awkward (for readers, not for him) pose. This lead to a veritable downpour of trolling and photoshopping on social media, especially Twitter.
The spiritual leader was at it again on Monday, taking part in a charity football match featuring film industry celebrities and politicians. The guru managed to hog the limelight yet again despite the presence of the likes of Ranbir Kapoor, Arjun Kapoor and Abhishek Bachchan. His on-field actions, captured in vivid detail, ushered in yet another deluge of trolling and photoshopped images, begging the question: Who will blink first, Ramdev or his trolls?
As of now, Ramdev shows no intention of slowing down when it comes to taking centre-stage in fields other than yoga. And the trolls are also showing no fatigue in making fun of the yoga guru. It's now a game of wait and watch.
But you don't have to wait and watch these people. Instead, take a look here at what people said about Ramdev and his actions with the football on Twitter on Monday:
Or this Vine:
And then things got political:
Now one thing is for sure: The yoga guru scarred some for life, like one of these people said in the tweets above, but he also gave those photoshoppers out there yet another opportunity to display their skills. He may have also given the BJP's political rivals some fodder to attack it, but that has to be done in a manner that should not hurt religious sentiments. Else, all will be for naught.