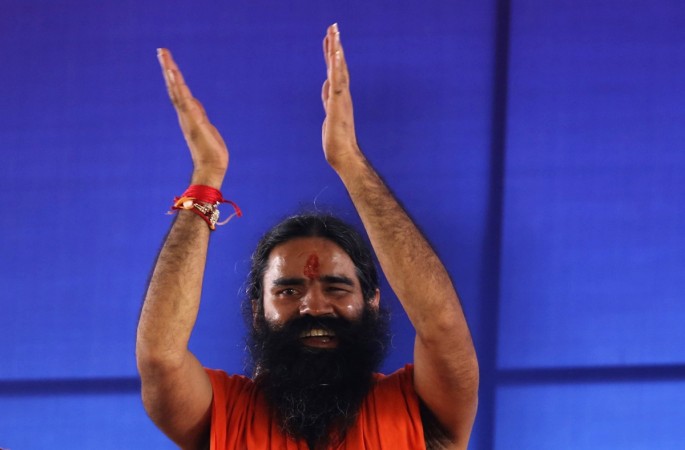 Popular yoga instructor Baba Ramdev has hit headlines again after a magazine cover featuring him doing a yoga asana went viral on social media. The July issue of a popular English magazine has invited memes and trolls online for publishing the photo of Ramdev.
Netizens were quick to come up with memes showing Ramdev leading the Indian Air Force as well as parasailing, practicing as a goal keeper for FIFA World Cup and for Rio Olympics diving competition in the same posture. A few have also attacked the magazine for publishing such a photograph on its cover page. "Can never unsee this !! Why @IndiaToday !! Why you do this to us [sic]," tweeted a social media user. Some others have also called him the "Indian version of Tarzen."
In a recent video, Bandeep Singh, who took the photograph of Ramdev, said how they decided to click the yoga guru in that particular posture. "For me the critical thing was to get him to do this posture and we had shot with him the whole day. Baba Ramdev was an extremely chilled out person. I told him 'you are a very well known face, you are staring us from every hoarding, you are the face of Pathanjali and the reader had to engage with your face in a very different manner.' So I explained the concept to him, and he immediately started pumping up, he started with push-ups, that too after a whole day of activity and after five minutes, he did this perfect posture," Singh said in the video that has been shared on the Facebook page of the magazine.
The magazine also has a section titled "Power Yogi," which says "how Baba Ramdev discovered commerce and turned spirituality on its head to emerge as a political, economic and cultural superbrand."
Here is the magazine cover photo:
Here is how netizens responded after the magazine cover went viral:
Sorabh Pant
Baba Ramdev trying to spell A. For Adani.
-
-
Pallavi Ruhail
What were the people at India Today smoking when they printed #BabaRamdev 'like that' on the cover!
Anshul Saxena
Baba Ramdev's Cover on India Today Magazine break records of John, Hrithik 6 packs abs or India Today ko b Baba ji ka ye pose chaapna tha uh
Sir. K P Singh
According to @IndiaToday #BabaRamdev is a most popular saint in the world right now..!!
Ashwin S Kumar
The biggest winner from the India Today cover of Baba Ramdev is The Ashutosh. With this, his "wide angle" pose will be buried & forgotten
-
-
-