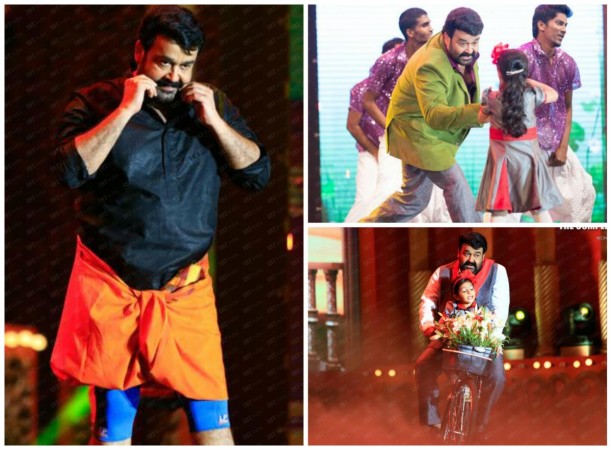 Superstar Mohanlal has again become a victim of social media attacks after his performance during the recently concluded Asianet Film Awards was telecast on Sunday, Feb. 21.
The actor, who completed his 36 years of acting career in the entertainment industry, had a special performance named "Lalettan@36" during the gala event that has become the hot topic of discussion for social media users since Sunday night. Mohanlal was seen "performing" for 30 minutes with child artiste Akshara Kishor taking us back to some of his popular songs to date, like "Kilichundan Mambazhame," "Aatirambile Kombile," "Ormakal Odi" and "Ponveene," among others.
However, seems like the Kerala audience are totally disappointed with the actor's "graphic show" lip-synced to a previously recorded audio tape during the award night. "So Asianet Film Award function this year, was a platform given for Mohanlal to honour himself ???," asks a Facebook user. "At least Lalettan should not have done it, an appeal to you, don't degrade yourself Laletta," says another fan of the actor.
Audience had heavily criticised actress Navya Nair too for her heavy make-up, following which she apologised to her fans for the mistake. Asianet was also trolled for pleasing every actor by giving awards to each one of them in various categories like best actor, popular actor, supporting actor, comedian, lifetime achievement, special jury, debut actor, among many others.
Meanwhile, Mohanlal was similarly trolled on social media after the actor's Lalisom programme turned out to be a flop show during the inaugural function of the 35thNational Games at Greenfield Stadium in Kerala in Feb. 2015. After the band's poor debut performance, the actor's social media platforms were flooded with insulting memes and comments.
Watch Mohanlal's "Lalettan@36" full performance here:
Check out troll messages against Mohanlal here: