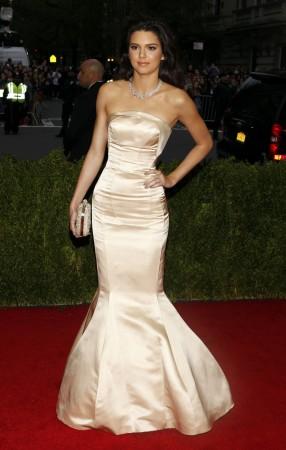 After half-sister Kim Kardashian posed nude for GQ, Kendall Jenner decided to go nude for a photoshoot, much to the disapproval of her fans, who noted that the teen was too young to be aping her sister.
Kendall Jenner, who is just 18, stripped off for a photoshoot by famed photographer Russell James, and while her family is indeed proud of the model, as sister Kourtney Kardashian tweeted the picture with the caption "Saturday Muse", a section of her fans aren't happy with her decision.
While one user predicted that Jenner is sure to regret posing nude, another has blamed her parents for allowing her to do so. "Hmm I wonder what Bruce Jenner said about this!! Let me guess "makes me sick to my stomach," one fan wrote.
Sadly, this is not the first time the model has upset her fans with her lack of modesty. In July, she was photographed topless for LOVE magazine, and caused quite a stir on social networking platforms.
However, Jenner told Australia's KissFM that there was nothing to be ashamed about as "shooting semi-nude is 'about energy and vibes and good music- so it's not weird in any way! The people that I work with make me very comfortable," reported Mail Online.
Jenner's career is only beginning and one of her biggest assignments since signing with Society Management in November 2013 was Jacobs' Fall 2014 show earlier this year.
She strutted her stuff wearing a sheer top, which exposed her nipples, and this transition of hers into a high-fashion model was also met with a lot of backlash from fans who wanted the teen to wear age-appropriate clothes.
But Jenner turned a deaf ear to comments from haters, and told Into The Gloss that she was happy to kick off her serious modelling career with Marc Jacobs.
"I just recently turned 18, so this [Marc Jacobs show] is my big kick-off to start and grow my career. The New York fashion scene is crazy, madness, but I love the energy. I love everything about it-like the hair and makeup today, it's incredible. I've never had my eyebrows bleached; I don't even look like myself," she told the magazine in February.