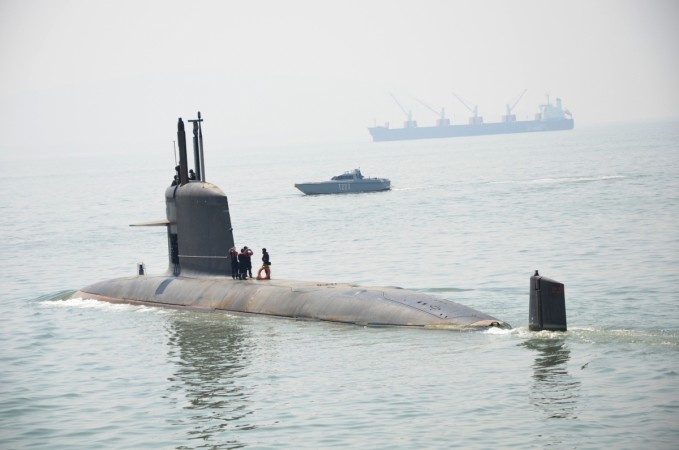 In a bid to strengthen the Indian Navy in terms of warships, the third Scorpene-class submarine, INS Karanj (S52), was launched in Mumbai's Mazagon Dock Shipbuilders Limited (MDL) on Wednesday.
INS Karanj is said to be around 68 meters in length and over 12 meters in height.
Earlier, Karanj (S21) was commissioned in the Indian Navy in September 1969 and was retired in 2003. Karanj (S52) comes with superior stealth features such as acoustic silencing techniques, low radiated noise levels and hydro-dynamically magnetised shape.
On December 14, 2017, INS Kalvari was commissioned into the navy and another submarine INS Khanderi was launched on January 12, 2017. Khanderi is likely to be commissioned into the Navy by 2020 as it is undergoing rigorous sea trials which will prove its potential.
Karanj is one of the six powerful Scorpene-class submarines. French Naval group DCNS (Direction des Constructions Navales) is working in collaboration with MDL to build the sea giants.
INS Karanj, a precision-guided weapon
Karanj is also equipped with a shore integration facility, developed by MDL. This specific feature will simulate and integrate many equipments embedded in the Scorpene's combat mechanism— this option wasn't a part of shipbuilding in India till now, MDL's statement read.
Defining the potential embedded into INS Karanj, MDL in a statement said, "These stealth features give it an invulnerability, unmatched by most submarines."
Karanj is built in a way to launch a crippling attack on the enemy underwater or on the ground with precision-guided weapons. "The attack can be launched with both torpedoes and tube launched anti-ship missiles, whilst underwater or on the surface," the MDL said.
India had signed the Scorpene deal with France in 2005. The latest launches and commissioning of warships into the Indian Navy comes in line with the increase of Chinese naval troops in the Indian Ocean.
INS Karanj is all set to operate in any given circumstance and can undertake various missions like anti-submarine warfare, intelligence gathering, anti-surface warfare, mine laying and area surveillance.