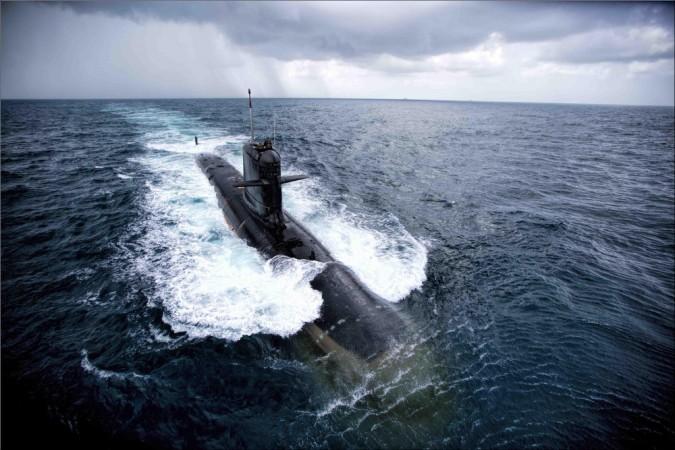 Prime Minister Narendra Modi on Thursday commissioned the Scorpene-class submarine Kalvari—said to be one of the deadliest submarines in the world— into the Indian Navy.
The commissioning of the INS Kalvari comes just a few days after defence minister Nirmala Sitharaman commissioned the indigenously built anti-submarine warship INS Kiltan in October.
The event was also attended by Sitharaman, Navy chief Admiral Sunil Lanba and other top defence officials.
The indigenously built INS Kalvari is part of the Rs 23,652 crore ($3.7 billion) "Project-75" awarded in 2005 to the state-owned defence shipyard Mazagon Dock Shipbuilders Ltd. in Mumbai and France's Naval Group.
Modi said it is a moment of great pride for India. "Today is a day of pride. I would like to congratulate all the citizens of this country on this historic occasion," he said.
7 facts why INS Kalvari is indeed a deadliest machine:
1. Name: Considered to be one of the stealthiest submarines of India, the Kalvari is named after the deep-sea tiger shark, a deadly predator found in tropical and temperate waters.
2. AIP technology: Launched in October 2015, the INS Kalvari whose overall length is 67.5 metres and 12.3 metres in height, is equipped with Air Independent Propulsion (AIP). The AIP allows the submarine to remain underwater for a longer span of time as it will not need atmospheric oxygen to run its propulsion system.
3. Installed with torpedoes: The attack submarine can boast of carrying 18 heavyweight torpedoes and a specially designed torpedo called Varunastra, which is being developed by the DRDO.
According to a Zee News report, the torpedo will be 1,500kg, 8-metre-long with a range of 40 km and an ability to destroy even aircraft carriers with its 250 kg warhead. It can even be locked on to the acoustics generated by the components of any ship.
4. Advanced missile: The submarine can also carry 18 Exocet Anti-Ship Missiles, which can destroy any enemy ship within a range of 180 km. This means that the missile is capable of effectively destroying any enemy ship without coming within its detection range.
This missile would make Kalvari even more deadly because the Exocet when launched follows the sea skimming technique – which allows it to avoid radar and infrared detection while approaching the target.
5. Makes no noise: Unlike other nuclear submarines, which end up generating some noise as they need to constantly pump coolant into their reactor, INS Kalvari's AIP can keep the submarine silent for over 21 days at a stretch.
6. Lightweight structure: The submarine is designed with a special steel alloy which not only reduces its weight but also enhances its load and stress bearing capabilities. The structure is made of two layers of steel making it absolutely safe from enemy attacks.
7. High-speed submarine: INS Kalvari is one of the fastest submarine in the south-east region, which can reach a speed of over 37 Km per hour when totally submerged.