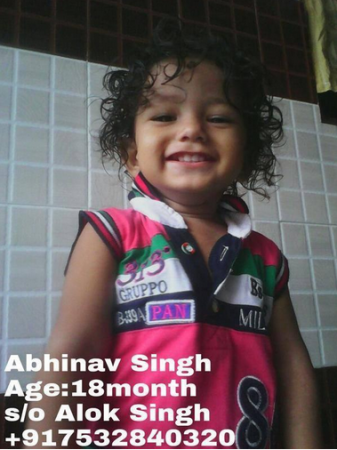 Inspired by the successful attempt of Jahnvi's parents to find their daughter through a massive social network campaign, the family of one-year-old Abhinav has now put all their hopes on social media to locate their missing child after not getting much help from the police.
The one-year-old went missing on 26 September near his house in Noida, where a crowd had gathered to watch the performance of a street-side magician, IBNLive reported. Abhinav's mother, Priyanka, went inside the house leaving her child behind, but when she returned after a few minutes, he was missing.
An FIR, alleging kidnapping, was reportedly registered at Sector 58 Noida police station. Though the police have launched a search operation, no trace of the missing child has been found yet, even 11 days after his disappearance.
Dissatisfied with inaction by the police and their indifference towards the incident, Abhinav's parents took to social media seeking help from the public to locate their missing child. A Facebook page has been created with his photograph and contact details of the family. Also, his missing report has gone viral on Twitter with #AbhinavMissing.
The details displayed on the social networking sites have the following contact numbers: 8130825878, 9004249235, 7532840320, 9795383816.
This comes after a three-year-old girl, Jahnvi, was found on 5 October from Delhi's Janakpuri area, when a passerby recognised her as a result of a massive social media search campaign. She had gone missing on 28 September from the lawn near India Gate.