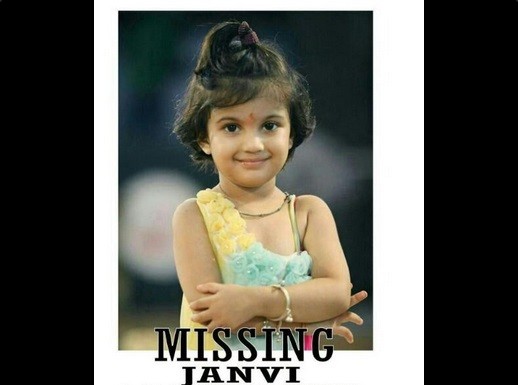 Aching posters of a smiling three-year-old Janvi with an accompanying message 'MISSING', had gone viral on social media over the last few days ever since she disappeared from India Gate on 28 September. The girl was found on Sunday in Delhi's Janakpuri area, after a passerby recognized her, and police suggest the massive social media campaign may have helped trace her.
Janvi was found with her head shaven, sparking fears of a child trafficking attempt to hide her identity. She also reportedly had a board around her neck with the words 'I am Jahnvi' written on it, according to The Times of India.
According to the police, the girl may have been abandoned after her disappearance was widely covered in the media and went viral on social media platforms such as Twitter and Facebook.
As the search for the three-year-old was intensified, the Delhi police had announced a cash reward of ₹50,000 for any information about the child. Her photo was also widely circulated on social media to help spread the information. The girl was found at 8 pm on Sunday night and brought to the Mayapuri police station where her family identified her.
"Police were evidently doing their best. I don't know if she was kidnapped as I have just been informed about her recovery," the girl's father told TOI on Sunday.
Janvi had gone missing from the lawns near India Gate at about 9 pm on 28 September when she had visited the place with her parents. The police recovered CCTV footage from the area, in which the girl was seen with some unidentified people. The police, however, are yet to verify the identities of the people she was last seen with at India Gate.
The incident has brought forth the positives of social media in spreading information while also revealing the dangers of child trafficking.