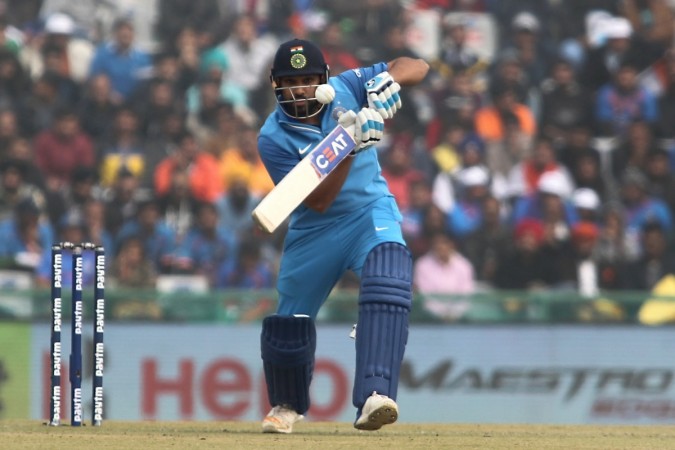 Indian captain Rohit Sharma, after constructing a world record 208 not out against Sri Lanka on Wednesday (December 13) explained the process of batting and mentioned the names of his contemporaries AB de Villiers, Chris Gayle and MS Dhoni.
Why did Rohit bring the big-hitting trio's names at Mohali's IS Bindra Stadium? Read on to find out.
The 30-year-old Mumbai right-hander became the first batsman in ODI history to hit three double centuries. He is only the second captain, after Virender Sehwag, to cross the 200-run mark in the 50-over format.
Also read: Rohit proves Kohli right with double ton
Thanks to Rohit's historic knock, India thrashed Sri Lanka by 141 runs and levelled the three-match series 1-1. The decider is on Sunday (December 17) in Visakhapatnam.
Talking about his innings, Rohit admitted that there was no formula to scoring big hundreds. Also he admitted that he doesn't have the power of De Villiers, Gayle or Dhoni and has to use his brain.
"There is no formula to it. The pitch was nice and hard and you could hit on the up. All the double hundreds I got were similar in pattern. I started off very slow and then picked up the pace, at the end I accelerated," he said at the post-match press conference.
He added, "I like to analyse situations and conditions which were initially not easy. I wanted to play out the overs. I am not someone like AB de Villiers, (Chris) Gayle or (MS) Dhoni. I don't have that much power. I have to use my brain to manipulate the field, and stick to my strength which is to hit through the lines."
Rohit said hitting sixes was not easy and it required lot of practice and hard work. His 208 not out included 12 sixes and 13 fours.
"Hitting sixes is not easy, trust me. It comes from lots of practice and hard work. Nothing is easy in cricket, when you watch it on TV, it may look simple. But today, I was trying to manipulate with their field setting, by playing those scoop shots, which I believe has been my strength," he said.