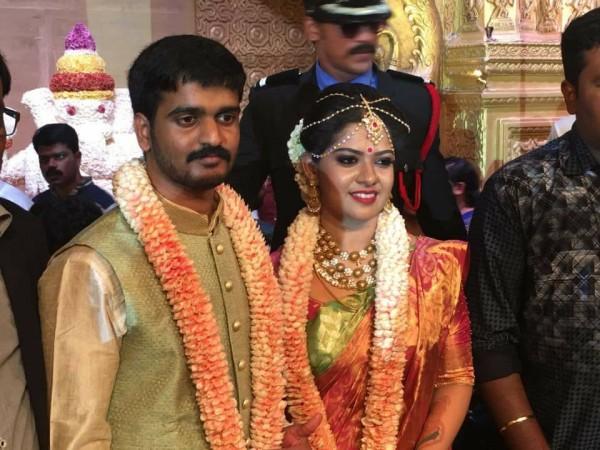 Just days after Karnataka ex-minister Gali Janardhana Reddy hit the headlines for conducting an extravagant marriage ceremony of his daughter Brahmani, Kerala whistleblower Biju Ramesh has hogged the limelight after his daughter Megha B Ramesh got married to former minister Adoor Prakash's son, Ajaykrishnan on Sunday, December 4.
Though the family members of the couple haven't yet revealed the total budget spent for the function that took place at Rajadhani Gardens in the capital city, it is evident that that the liquor baron has splurged quite a lot of money for the ceremony. It has also caught the attention of public as the splendid function was arranged amid the currency crisis that has affected the entire country.
The mandap was created in the model of Akshardham Temple in New Delhi, and more than 20,000 guests attended the star-studded ceremony, which also had several entertainment programmes. However, it has raised the eyebrows of many, being held at a time when majority of Indians are struggling to make ends meet due to the demonetisation of Rs 500 and Rs 1,000 currency notes in the country.
Also check photos of Megha and Ajaykrishnan engagement ceremony
Though Rajya Sabha Deputy Chairman PJ Kurien, Congress MP Anto Antony, senior Congress leader Vakkom Purushothaman, former state minister Aryadan Muhammed, BJP MLA O Rajagopal, among others graced the event, many politicians and biggies skipped the event.
Meanwhile, latest reports suggest that a day after Kerala witnessed the big fat wedding of Biju Ramesh's daughter, three income tax officials had raided the office of the liquor baron at Rajadhani Buildings near East Fort in Thiruvanathapuram on Monday afternoon to collect enough details on the luxurious wedding expenditures of his daughter. It is understood that the team had spent almost seven hours to verify the records and have also asked Biju to submit a detailed report in a week's time.
Biju, who owns nine bar hotels in Kerala, hit the headlines initially after he accused former finance minister K M Mani of accepting bribe from him to open his bars, which were closed owing to the 2014 liquor policy implemented by the Oommen Chandy government. It has to be noted that the engagement ceremony of the couple that took place on June 23, was attended by big names in Kerala, including Oommen Chandy and Ramesh Chennithala that had then drawn criticism.
Check out the videos and photos of the wedding ceremony of Biju Ramesh's daughter and Adoor Prakash's son here:
-
-
-
-
-