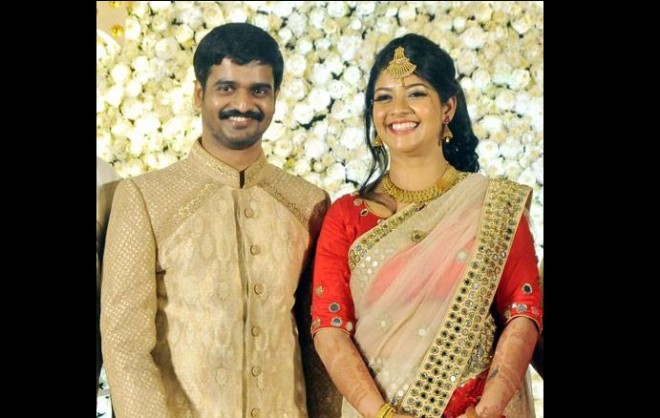 Ex-revenue minister Adoor Prakash's son Ajaykrishnan Prakash and businessman Biju Ramesh's daughter Megha B Ramesh got engaged in a lavish ceremony at Al Saj Convention Centre in Thiruvananthapuram on Thursday, June 23.
Ajaykrishnan wore a golden sherwani and the bride was seen wearing a golden and red half saree with heavy mirror works and gold ornaments.
The function was graced by former chief minister Oommen chandy, leader of the opposition Ramesh Chennithala, EP Jayarajan, Kadakampally Surendran, CK Sashidharan, Kodiyeri Balakrishnan, KC Joseph, Aryadan Muhammad, Ganesh Kumar, Anil Kumar, Cherian Philip, V Sivankutty, MM Hassan, C Divakaran, KS Sabarinath, NK Premachandran, Chandrashekhar, M Vijayakumar, PP Thankachan, Mathew T Thomas and KC Joseph among many others. Prakash had personally invited all his former colleagues for the ceremony. The function also saw the presence of celebrities, Sona Nair, Chippy, M Renjith, John Brittas, Srikandan Nair, G Venugopal and others.
Biju, who owns nine bar hotels in Kerala, initially hit the headlines after he accused former finance minister KM Mani of accepting bribe from him for allowing him to open the bars, which were closed owing to the liquor policy in 2014 by the Oommen Chandy government. Following the allegations, Mani even resigned from his post. The bar scam case was one of the major issues faced by the United Front Democratic government, who accused Biju as the Left Democratic Front's tool to bring down the then ruling party.
Check the photos and videos of the event here:
-