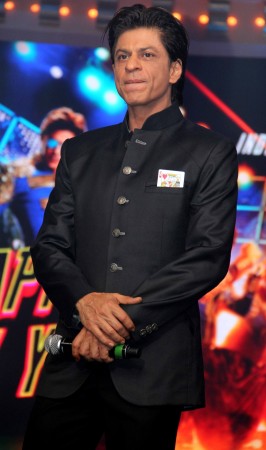 Shah Rukh Khan will be seen in a completely different avatar in his next movie "Fan", but producer Aditya Chopra wants to keep his look under wraps.
When it comes to films, actors related to his films and content, Chopra likes to maintain secrecy, due to which the producer has banned mobile phones on the sets of "Fan".
"Fan" created lots of curiosity after director Maneesh Sharma revealed that they have hired a Hollywood makeup artist to work on Shah Rukh's look.
The film is being shot at Yash Raj Films Studio so that outsiders don't get a glimpse of the film. And to keep the look under wraps, Chopra has strictly instructed the whole cast and crew including the actor and director to keep their phones outside near registration counter, DNA reported.
Even gadget freak Shah Rukh has been asked to keep his mobile phone with the security. The team will get their phones back only after the shoot is wrapped up.
The phones and other devices which can take photos and videos will be kept in a safe under lock and key. The rule is same for everyone including SRK, Sharma and other crew members, the leading daily reported.
Chopra has previously banned camera phones on the sets of Aamir Khan's "Dhoom 3" to keep the first trailer and poster a secret.
Not only Chopra, the producers of "Happy New Year" banned cell phones on the film's sets. The makers of the film wanted to make sure that the sets images are not leaked online.
"Some background dancers had been called from outside and they clicked some pictures. This upset the producers as they don't want to reveal the film's look at this juncture," Mid-Day quoted a source as saying.
Anurag Kashyap, who is working on "Bombay Velvet", also announced the same rule when he was shooting for the period drama.
"Anybody carrying a cell or camera is stopped by security outside and their equipment is confiscated and handed over only when they leave. Stars have been told to keep their phones inside their vans or makeup rooms," DNA quoted a source as saying.