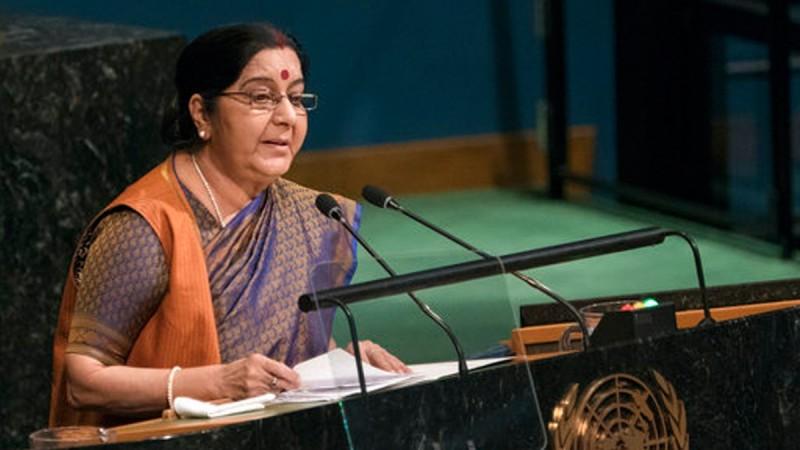 A few days back, the Congress party was left red-faced after a Twitter poll conducted by it, aimed at branding external affairs minister Sushma Swaraj a 'failure', backfired. Unperturbed by the embarrassment, the party has now come out with another poll but played it clever this time.
On March 26, the official Twitter handle of Congress had conducted a poll to assess Swaraj's "failure" as a foreign minister in handling the case of 39 Indians killed in Iraq. The poll was not only retweeted by her but was trolled by many followers of Swaraj.
Around 34,000 people had responded to the poll and 76 percent of them said that the death of 39 Indians in Iraq is not Swaraj's biggest failure as the EAM.
So, this time, rather than questioning Swaraj's capability, Congress decided to play it wisely. The poll was conducted to assess Swaraj's biggest failure.
"Which of these two is Sushma Swaraj's biggest failure? #IndiaSpeaks" the poll says.
The two options to select from were - '39 Indians killed in Iraq' and 'Unresolved Doklam dispute.' After posting the question, Congress also asked Swaraj to retweet the poll like last time.
"Since many people didn't quite get the previous poll, this one should make things explicitly clear. Dear @SushmaSwaraj M'am, feel free to retweet," Congress said in a tweet.
Here are the results of the poll:
However, Swaraj has not retweeted the poll as she is currently in Japan to co-chair the strategic dialogue with her Japanese counterpart Taro Kono and review the entire gamut of bilateral ties between the two nations.
Meanwhile, a few Congress supporters have taken the opportunity to troll Swaraj:
This poor lady is nothing in her hands. Modi is driving everything right from bullock cart to bullet train !

— AbdulKader عبدالقادر (@AbdulkaderMB) March 28, 2018
I being ex Fauji opted for Docalam where as she, Nirmala & Modi ji all failed on this front

— OMESH PAL RAMPAL (@chogawiaan) March 28, 2018
One more option. " All the above'

— Sanjay (@sanjay4kulkarni) March 28, 2018
Other Twitter users have shown support for her.
Which of the following is most insane party and has crossed all levels of stupidity?

— Devesh Pandey (@Jhalla_wallah) March 28, 2018