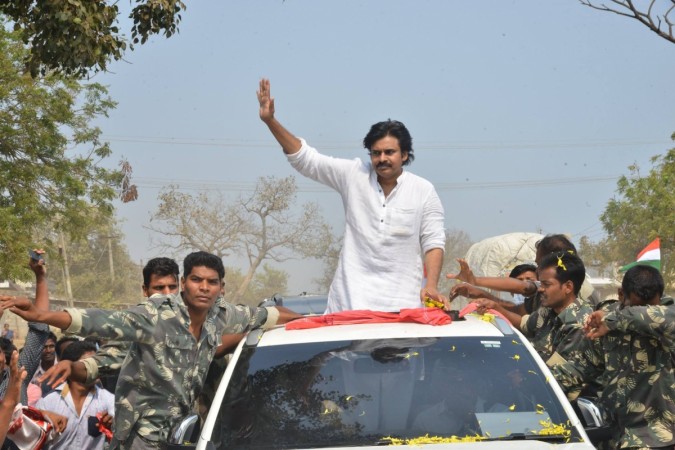 After the release of the movie Agnyaathavaasi, power star Pawan Kalyan is said to be putting his acting career on hold to focus on politics and build his political outfit — the Jana Sena Party (JSP).
It was rumoured back in 2017 that Pawan Kalyan has taken an advance from Mythri Movie Makers to act in their upcoming film. The producer has reportedly roped in Santosh Srinivas to direct this film. The director is said to have completed the scripting work and is eagerly waiting to narrate the story to the power star.
But Pawan Kalyan, who recently set out on the Chalo Re Chalo yatra, is said to have decided to get busy with active politics in 2018. The Jana Sena Party president wants to keep his film assignments aside in a bid to reach out to people and make it big in the upcoming Assembly elections.
Agnyaathavaasi, which was his landmark 25th movie, is probably going to be his last movie, say sources from the film industry.
"In the coming days, Pawan Kalyan has a hectic schedule as he has decided to meet people of different districts in Andhra Pradesh and Telangana. Till the coming elections, he is going to address public meetings and highlight the problems faced by the common man," a source told Deccan Chronicle.
The bosses at Mythri Movies Makers are hopeful that Pawan Kalyan will work in their project after the completion of the elections. "The actor has always maintained that he wants to do films because that is his bread and butter, so after the elections, he may come back to films to make some money," the source added.
However, Pawan Kalyan's fans want him to come back to films.
A fan named Kona (@KonaHasini) tweeted, "Quitting movies is absolutely wrong decision..Politics are not like movies..Politics are unpredictable but movies are always Predictable to some extent.. that's how you can be close to us Fans.. without politics also public issues can be resolved..Don't quit movies @PawanKalyan."