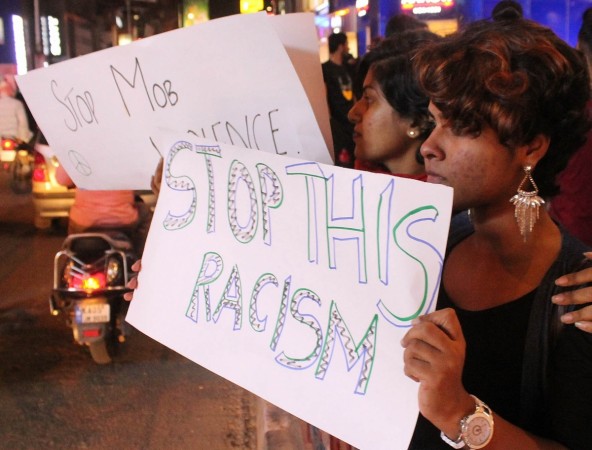 Six Africans allegedly assaulted an Ola cab driver in south Delhi in the early hours of Monday after he refused to carry more than four passengers in his car. The driver reportedly sustained serious injuries on his face. The incident comes amid reports of increasing attacks on African nationals in the capital city.
The Hindu quoted the Additional Deputy Commissioner of Police (South) Nupur Prasad as saying that the six accused included four men and two women. While five of them fled the spot, the driver apparently managed to stop one woman from fleeing.
The woman, who claims to be from Rwanda, has been detained and her credentials are being verified since she was not carrying any documents, CNN News18 reported.
The incident reportedly took place when the group called for an Ola cab around 4 a.m. to travel from Rajpur Khurd village to Dwarka. When the 51-year-old driver, Nuruddin, a resident of Kharak village, told them he would not be able to to carry all six of them in one vehicle, the group reportedly thrashed him and fled the spot.
The driver sustained serious injuries on his face and has been hospitalised at AIIMS Trauma Centre, the Deccan Chronicle reported.
The Delhi Police has reportedly filed a complaint against the group for assaulting the driver.
ANI, in a series of tweets, quoted Nuruddin as saying: "I was badly beaten by the African passengers when I refused to take over 4 people. Two were women. I thank Delhi Police for helping me so much, I am confident I will get justice. [sic]"
Meanwhile, the Goa Police are on the lookout for two African nationals, one of whom allegedly raped a 39-year-old woman at knife-point on Saturday.
IANS reported that an FIR was filed at the Mapusa Police Station on Sunday. The victim claimed she was travelling on an isolated road in Parra when two men stopped her and took her to their room at knife-point. She claimed she was raped by one of them in the room.
The agency quoted a police official as saying: "We have filed an FIR (for rape and kidnapping) under Sections 365, 506, 342 and 376 of the Indian Penal Code. We are on the lookout for the accused who the victim has claimed were of African origin."
Nearby police stations and those at the state's borders have reportedly been alerted.