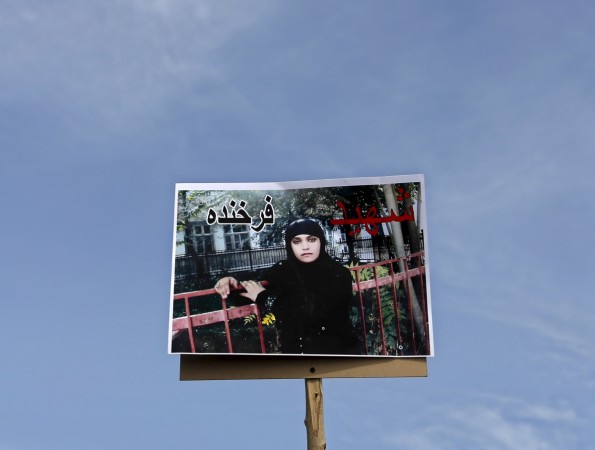 Activists in Afghanistan have been planning a massive protest against the country's appeals court for aquitting a man and quashing the death sentences of four others responsible for lynching a young woman after falsely accusing her of blasphemy.
"The appeal court decided to reduce the sentence -- three of them got 20 years in prison and one 10 years," appeals court judge Nasir Murid, the head of Kabul appeals court, told AFP.
In March, Farkhunda Malikzada was beaten, burned and thrown in a river after some men falsely accused her of burning a copy of Quran.
Judge Murid passed the order in a closed-door hearing on Wednesday, the Associated Press reported.
A commericial television channel, Tolo TV, reported that after the "secret trial", the custodian of the shrine, who was earlier sentenced to 16 years in prison for inciting the crowd, was acquitted on Wednesday.
Farkhunda's family and civil society groups are now planning a mass protest. "It's not a court, it's just a show," her brother told BBC Persian. "The media should have been there, we should been there, the lawyers should have been there."
"It's a real theatre. The whole world laughs at the judicial system of Afghanistan. Do the judges have families, sisters, mothers – or not? Do they have a heart? We will not accept this decision."
Ramin Anwari, a fellow with the Asian Society, wrote on Twitter: "Lack of #justice & transparency is just unacceptable."
"We are planning massive protest against the court ruling on #Farkhunda. Lack of #justice & transparency is just unacceptable. #Afghanistan," he said in another tweet.
Just to clarify: canceling death sentence is welcomed, but how is 20yrs in prison the right equivalent to that? #Farkhunda #Afghanistan

— Ramin Anwari (@raminanwari) July 2, 2015