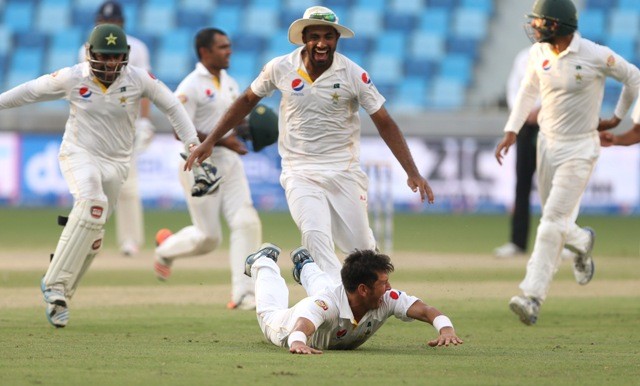 Pakistan cricketers have come together once again to pour out their support for the earthquake victims in their nation as well as Afghanistan, and have pledged their help in the relief measures.
The Pakistan team won their second test game against England in Dubai via 178 runs on Monday, and on the same day a deadly 7.5 magnitude quake hit Afghanistan and north-west Pakistan.
According to the AFP, more than 300 people have been declared dead following the earthquake, which was followed by seven aftershocks, measuring as high as magnitude 4.8, the U.S. Geological Survey confirmed.
The latest aftershock also came just before dawn on Tuesday.
The cricketers also kept their celebrations low-key after this tragedy, and they have now come together to lend their support for the relief cause.
"We are badly hurt by the news of the earthquake and send our heartfelt condolences to families who lost their dear ones," Pakistan skipper Misbah-ul-Haq told to the AFP.
"The news pushed our win against England to one side and every player was shocked and wants to contribute towards the relief work."
Pakistan took a 1-0 lead in the three-match series against Pakistan, and one of the key players in the second test was Younis Khan, who scored a century for his side. The 37-year-old has insisted that he is willing to lend his support once he reaches home after the completion of the test series.
"It's a big disaster for our beloved nation," Khan said.
"All the players are with the suffering families and once I go back I will definitely take part in the relief work as its our duty to help our brothers and sisters," said Younis, who hails from the north-west Khyber Pakhtunkhwa Province, an area badly hit by the quake.
The Pakistan team manager manager Intikhab Alam also confirmed that the players will start lending their support in the relief work once they return to the country.
"Our hearts are with the suffering families and players intend to do relief work once they return home," Intikhab said.