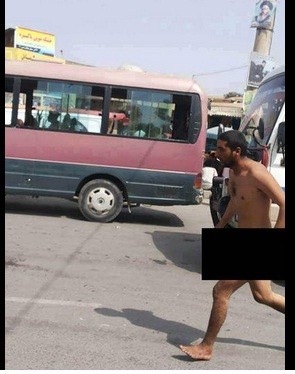 A man in Kabul, Afghanistan, protested against unemployment and injustice in the country in a bizarre way -- by running naked on the streets.
In a highly conservative society in Kabul, the sight came as a shock as pictures were shared on social media, Afghanistan's Pajhwok news reported.
The nude man was seen walking alongside vehicles on a busy road in Kabul on Thursday.
The man was reportedly beaten up by people who were angered by his public nudity, and pictures showed him lying on the ground with bruises all over his body.
The man who was walking naked around the streets of Kabul, badly beaten by people. #Afghanistan pic.twitter.com/pqPM6V4A7z

— Pajhwok Afghan News (@pajhwok) May 28, 2015
These photos shocks the social media.Nude man in #Kabul roads today, protest against unemployment and lack of justice pic.twitter.com/5Jt2mq9Npb

— Pajhwok Afghan News (@pajhwok) May 28, 2015
The photos are reminiscent of those of a young woman in Kabul, who came out on the streets in February wearing a metal body armour to protest sexual harassment, causing an uproar in the country.
She had been attacked by men for her protest, and had reportedly gone into hiding.