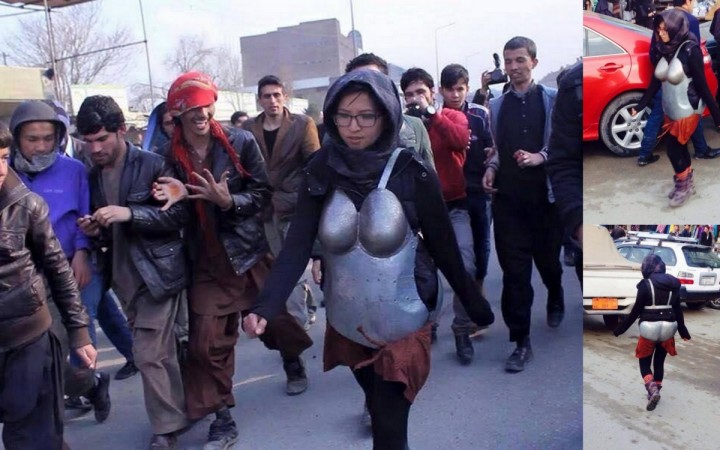 The images of a young girl, wearing a metal body armour to protest against eve teasing and street harassment in Afghanistan, has gone viral.
The photos of the Afghan girl hit the social media on Thursday. They show her walking through the crowded streets wearing the strange outfit.
The pictures of the unnamed girl are believed to have been taken in Kabul.
In the photos, dozens of men surround the girl as she walks down the streets of Kabul.
The young woman was reportedly spotted at Karte-3 area in the western part of Kabul city. However, the exact date and time of the incident has not been confirmed yet.
The images were widely shared on Facebook and Twitter, which are commonly used in Afghanistan.
The unique protest has garnered mixed reaction from the conservative Muslim society in Kabul. Reports claim that most social media users in Afghanistan severely criticised the actions of the girl as many saw it as an attempt to implement the western culture in the country.
Several internet users also praised the attempt by the girl. "Brave, brave woman. She reminds me of another brave girl Minnijean Brown-Trickey, who in the late 50's was determined to go to a previously whites-only school. She faced verbal abuse and intense anger - but she succeeded," Facebook user Catherine Robilliard said.