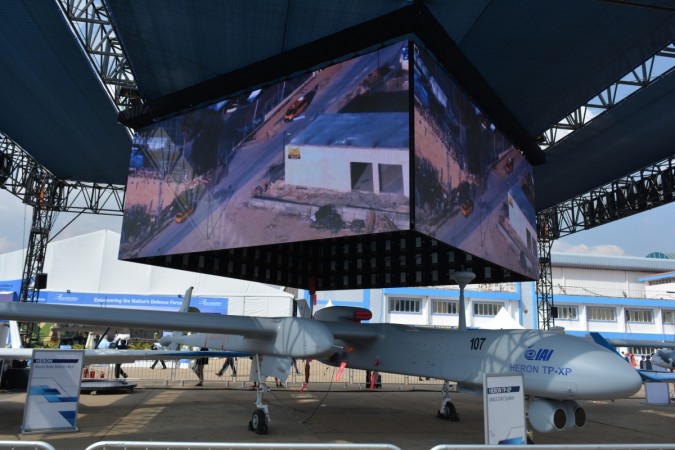 Unmanned aerial vehicles (UAVs) remained one of the main attractions of Aero India 2017 on the opening day of the event at Bengaluru's Yelahanka Air Force Station on Tuesday, February 14. The number of UAVs on display forced many of the visitors to speculate that these drones or unmanned aircraft system may now be the Indian armed forces' most potent sources to spy on Pakistan and China.
Let's have a look at some of the UAVs on display at Aero India 2017:
DRDO Rustom
Rustom is a Medium Altitude Long Endurance unmanned combat air vehicle (UCAV) developed by DRDO. Rustom is derived from National Aerospace Laboratories's Light Canard Research Aircraft (LCRA) developed by a team under the leadership of late Professor Rustom Damania in the 1980s. Rustom features a maximum speed of 190 knots and operating speed of 90 knots. It has a service ceiling of 22,000 feet and operates at altitudes of up to 20,000 feet.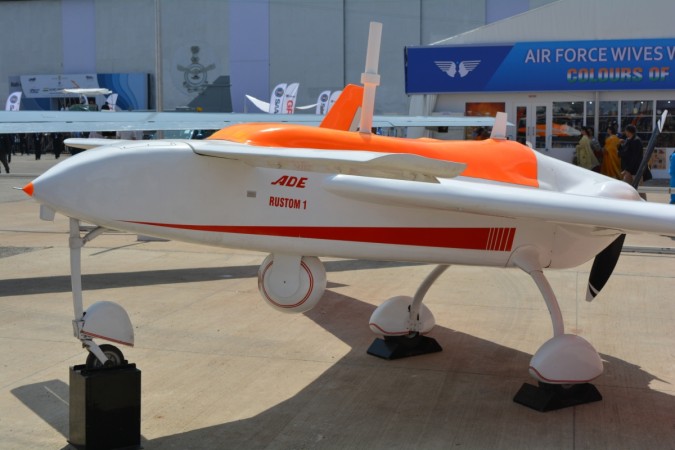 According to DRDO, Rustom can be used in potential missions such as Intelligence, Surveillance and Reconnaissance (ISR), Target Acquisition, Target Tracking, Communications Relay and Battle Damage Assessment.
DRDO Rustom – II
DRDO had successfully carried out the maiden flight of TAPAS 201 (RUSTOM – II), a Medium Altitude Long Endurance (MALE) UAV in November 2016. TAPAS 201 has been designed and developed by Aeronautical Development Establishment (ADE), the Bengaluru-based premier lab of DRDO with HAL-BEL as the production partners.
It is the first R&D prototype UAV which has undergone certification and qualification for the first flight from the Center for Military Airworthiness & Certification (CEMILAC) and Directorate General of Aeronautical Quality Assurance (DGAQA).
IAI Heron TP
Heron TP is an advanced, long-range, high-altitude and long endurance, multi-purpose MALE UAS with a variety of payloads. It was designed as a multi-mission platform to address local and international customers' needs and to perform a variety of strategic missions with a high level of reliability.
The Heron TP's main features and capabilities are:
Multi-mission/Multi-payload configuration
Large internal volume for a variety of payloads
All-weather capability
Satellite Communication (SATCOM) for extended range (Beyond Line of Sight - BLOS)
Operation above commercial traffic (up to 45,000 feet)
Simultaneous and flexible operation of payloads
Mission endurance above 30 hours
Triple redundant avionics
Automatic Taxi-Takeoff and Landing (ATOL) systems for maximal safety
Certified to STANAG-4671
Compatible with NATO standards
DRDO Netra
Netra is a light-weight autonomous UAV for surveillance and reconnaissance operations. It has been jointly developed by the DRDO's Research and Development Establishment (R&DE) and Mumbai-based IdeaForge.
Netra can be launched from a small clearing by the roadside and made to fly over the area of interest up to a height of 400 metres. It will send continuous real time video of every movement on ground of people, vehicles or any movement without anybody knowing that they are being seen. One can observe every activity within an approximate area covering a circle of eight-kilometre diameter. The zoom-in provision enables identifying human activity up to 500 metres away from the UAV where the UAV itself can fly up to four kilometres from the take-off point.