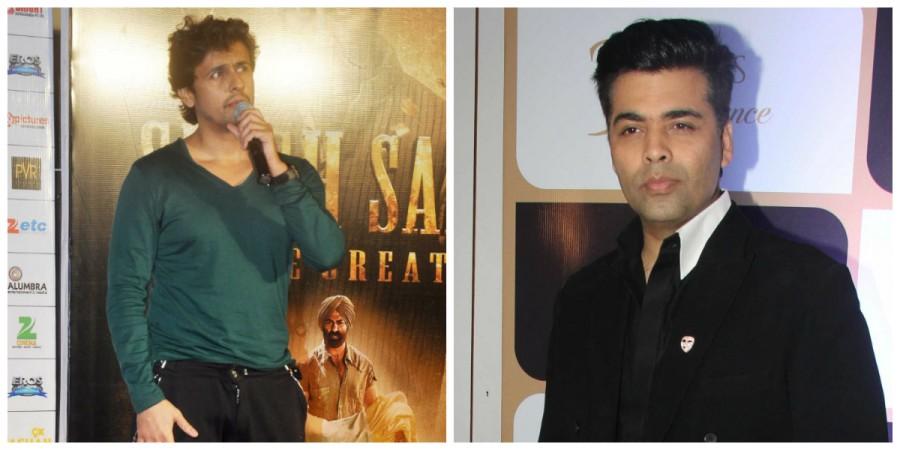 After Karan Johar was slammed by some singers for "insulting" dialogue on Mohammed Rafi in Ae Dil Hai Mushkil (ADHM), the director took an indirect dig at them.
Anushka Sharma has a dialogue in Ae Dil Hai Mushkil where she says Mohammed Rafi used to cry more than sing. This line irked all the fans of the legendary singer, including Sonu Nigam and Bappi Lahiri.
Rafi's son Shahid Rafi had also criticised Karan, following which Sonu had expressed his support saying: "If you can listen to the same joke about your parents then we are wrong. If your blood boils that how can someone say something like this about my parents, then we are right."
Bappi also had said that people who use such dialogues on legends like Rafi have no knowledge of music and no respect for elders.
Even film-maker Vidu Vinod Chopra had recently said that he has no interest in watching the movie. Now KJo took to Twitter and said: "Filmmakers making irresponsible remarks at events..singers revelling in self importance...press releases sent to mask insecurities! Ufff... [sic]."
Although he did not mention anyone's name in the tweet, it is very much apparent that he targeted people like Sonu and Vidhu. Meanwhile, Sonu also replied to the tweet in a similar manner.
"So it's all about loving your family, and disrespecting others'!! And this is not revelling in Self Importance? UFFFFFFF...:) [sic]."
The movie Ae Dil Hai Mushkil has been in much controversy but is performing pretty well at the box office. The film's collection is likely to cross Rs 100 crore at Indian box office soon.
Filmmakers making irresponsible remarks at events..singers revelling in self importance...press releases sent to mask insecurities! Ufff....

— Karan Johar (@karanjohar) 4 November 2016
So it's all about loving your family, and disrespecting others'!! And this is not reveling in Self Importance? UFFFFFFF... :)

— Sonu Nigam (@sonunigam) 5 November 2016