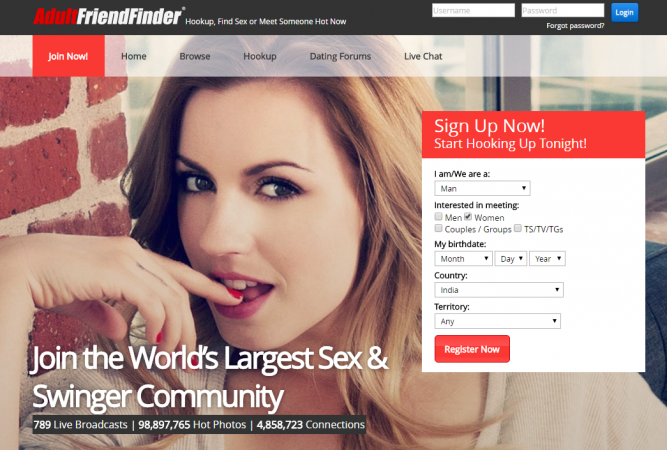 A massive breach on the websites of the FriendFinder Networks has put more than 400 million users' account details at risk. This is by far the biggest security hack in 2016, almost as big as the Yahoo breach in 2014 involving half a billion users.
According to LeakedSource, which was the first to report the cyber attack on FriendFinder Networks, more than 410 million users were affected in the attack spread across various websites of the network such as adultfriendfinder.com, penthouse.com and cams.com.
As per the report, the biggest breach took place on AdultFriendFinder.com, which the company describes as the "world's largest sex and swinger community", affecting 339 million accounts. Other sites such as Cams.com, Penthouse.com had 62 million and 7 million users' data stolen, respectively.
The hack is not entirely the most disturbing fact. Most of the data stolen from the FriendFinder Networks was stored in plain text, which means email addresses, passwords, and other details were out in the open for the world to see it without deciphering anything. Also, customers who'd cut ties with the site were not left alone. The company stored details of 15 million deleted user accounts on its servers.
Despite the sensitive nature of the activity going on these dating sites, users used simple passwords that even an 11-year-old could guess. Most users, nearly one million, chose the password 123456, while another million added 7,8,9 and 0 to feel extra protected. Guess what, it wasn't so difficult to crack after all.
Other popular password choices by the users of FriendFinder Networks included password, qwerty, and iloveyou. LeakedSource has published the entire list of passwords that were used on the dating site. So if you were a user of any of the affected websites, it'd be a good idea to change the passwords immediately.
This isn't the first time the adult website was hacked. In 2015, 3.5 million users' accounts were hacked, which is an insipid comparison to the latest attack. And that isn't the only part of worries for the company. In 2013, FriendFinder Networks filed for bankruptcy and delisted from NASDAQ. The challenges has continued to storm the site as there are several other sites offering similar services for free.