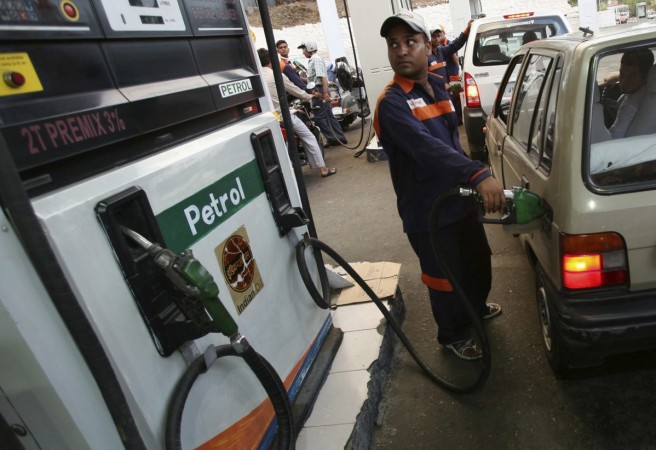 Indian consumers could have benefited by almost Rs 90,000 crore (about $13.5 billion) in the past 24 months if the additional excise duty on petrol and diesel was not imposed by the government. Additionally, it could have created incremental demand in the economy and added approximately one percent to the GDP, according to a State Bank of India economist.
"By removing only additional central excise duty from petrol and diesel retail selling prices (beginning FY15) the hypothetical petrol price per litre would be Rs 47.63 (actual: Rs 59.63) and diesel would be Rs 38.96 a litre (actual: Rs 44.96) in Delhi," said Soumya Kanti Ghosh, chief economic adviser, State Bank of India, in his March 17 note of State Bank Ecowrap.
"If we assume that the consumption of petrol and diesel in FY16 of 95.28 MMT (Apr-Jan: 79.4 MMT), this would have translated into Rs 90,000 crore of savings for the consumers, which could have provided additional demand in the economy to the extent of 1% of GDP," he added.
He said that the stimulus created that way would have been a better one than the one expected from the implementation of the salary hike proposals of the 7th Central Pay Commission.
"Interestingly, the Government has provided around Rs 54,000 crores for the 7th pay commission and the OROP in the budget against the provision of Rs 92,000 crores. In effect, this means that if wishes were horses, the decline in oil prices in itself may have provided the much needed impetus to demand and we may not have to wait for the pay hikes!"
The government has increased excise duty five times this financial year between November 2015 and January this year, which is expected to yield additional revenues of Rs 17,000 crore this fiscal.
The current excise duty on petrol is Rs 21.48 per litre, according to Indian Oil Corporation.
Besides, petrol and diesel prices are deregulated products in India. The country is a net importer of crude oil and meets about 80 percent of its requirements through imports.
In the current fiscal, India is expected to cut its oil import bill by about $48.5 billion, or 43 percent, to $64.22 billion, from $112.75 billion in the previous fiscal, according to a Petroleum Planning and Analysis Cell (PPAC) report released in January this year.
The PPAC functions under the Indian government's ministry of petroleum and natural gas.