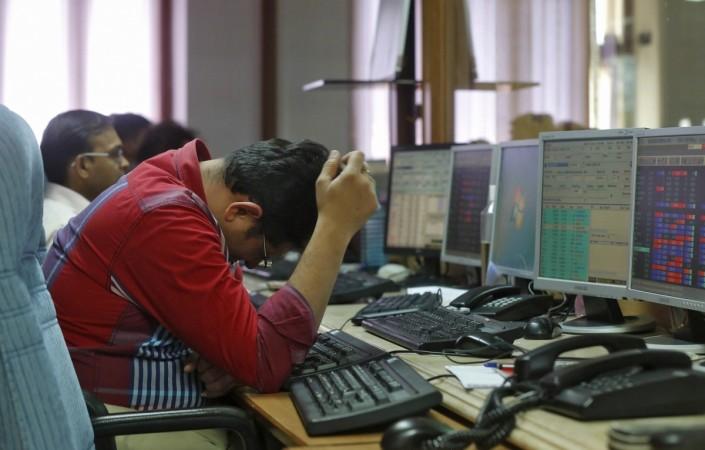 Here is the update on Indian stock markets after trading closed at 3.30 pm on Thursday.
The stock markets ended in the red, with both the benchmark indices — the BSE Sensex and the NSE Nifty — losing 1 percent each; the Sensex closed at 25,979 and the Nifty at 7,979. With the indices ending with the seventh straight day of losses, it is being seen as the biggest impact from investor sentiment point of view. Top Sensex losers were Adani Ports, ONGC and Tata Steel.
However, the biggest setback of Thursday is that all 19 BSE sectoral indices closing with losses, in some cases, more than the Sensex lost.
1. BSE Teck: Down 1.05 at 5,366
2. BSE Realty: Down 0.61 percent at 1,283
3. BSE Power: Down 1.67 percent at 1,959
4. BSE Oil and Gas: Down 1.18 percent at 11,835
5. BSE Metal: Down 2.78 percent at 10,021
6. BSE Information Technology: Down 1.02 percent at 9,946
7. BSE Healthcare: Down 1.34 percent at 14,669
8. BSE FMCG: Down 0.43 percent at 7,753
9. BSE Industrials: Down 1.08 percent at 2,783
10. BSE Financials: Down 1.27 percent at 3,980
11. BSE Energy: Down 1.18 percent at 2,929
12. BSE Consumer Discretionary: Down 0.83 percent at 2,831
13. BSE Basic Materials: Down 2.09 percent at 2,234
14. BSE Utilities: Down 1.70 percent at 1,729
15. BSE Telecom: Down 1.95 percent at 1,090
16. BSE Capital Goods: Down 1.61 percent at 13,372
17. BSE Consumer Durables: Down 1.90 percent at 10,811
18. BSE Bankex: Down 1.12 percent at 20,459
19. BSE Auto: Down 0.62 percent at 19,831
"The loss was attributed to various reasons, according to a note by a brokerage. "With RBI minutes proving that markets' expectation for a rate cut by February is misplaced, and with banks facing the heat of probes, broad market sentiments ebbed reflecting in the faster falls of mid-small caps. Markets are also watching with crossed fingers, the vibes emanating from GST panel's meet today and tomorrow, in the backdrop of demonetisation," Anand James, chief market strategist, Geojit BNP Paribas Financial Services, said.
Here is the latest update on Indian stock markets on Thursday afternoon:
1. Indian stock markets have extended losses in afternoon trade, with the 50-scrip NSE Nifty dropping below the 8,000-mark and was trading at 7,987, down 74 points at around 2 pm. The BSE Sensex was trading with losses of 215 points at 26,028 after breaching the 26,000-mark earlier.
2. Top Sensex losers were Adani Ports (down 3.56 percent to Rs 264), ONGC (down 2.63 percent to Rs 196), Tata Steel (down 2.62 percent to Rs 394) and Bharti Airtel (down 2.61 percent to Rs 294) and Axis Bank (down 2.07 percent to Rs 448).
3. Engineers India's shares will go ex-bonus on December 30, 2016. The company had declared 1:1 bonus earlier and fixed the record date as January 2, 2017. The stock hit a 52-week high of Rs 321.90 earlier during the day and was later trading at Rs 319.35.
4. Top Nifty losers are Adani Ports, Hindalco, ONGC, Tata Steel and Bharti Airtel.
5. The two-day meeting of GST Council begins on Thursday.
Earlier story
Indian stock markets opened with losses on Thursday indicating weak investor sentiments for the seventh straight day, tracking Asian cues and subdued trading in US and European markets the previous day. Top BSE Sensex losers were Adani Ports (down 1.33 percent to Rs 270), Axis Bank (down 1.35 percent at Rs 451 and M &M (down 1.23 percent to Rs 1,178).
The BSE Sensex was trading with losses of 177 points at 26,065 at about 10.13 am, while the NSE Nifty was down 56 points at 8,004.
The top-most business development is the Goods and Services Tax (GST) Council meeting scheduled for Thursday to consider model GST laws, even as the Modi government's demonetisation drive has put a question mark on the April 1, 2017 rollout deadline.
Among other news, shareholders of Tata Steel voted overwhelmingly to remove Nusli Wadia from the board of Tata Steel at the extraordinary general meeting (EGM) convened on Wednesday.
In a regulatory filing to the BSE, Tata Steel said that 90.8 percent of the votes cast were in favour of the resolution seeking to remove Wadia with the rest voting against it. The Tata Steel stock was trading at Rs 400, down 1.13 percent from its previous close.
Foreign institutional investors (FIIs) have been bearish about Indian equities, reveals data. They have Indian stock worth $3.9 billion in equities in 2016 so far.
On Wednesday, they were net sellers of stocks worth Rs 1,178 crore, according to provisional data released by the NSE.
The US markets will track macroeconomic data on Thursday even as trading is lacklustre ahead of Christmas and New Year holidays. The US will be announcing its Q3 GDP data and initial jobless claims.