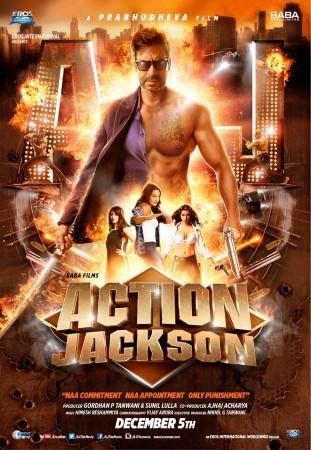 Prabhu Deva's directorial film "Action Jackson" has received negative reviews from critics. The film features Ajay Devgn, Sonakshi Sinha and Yami Gautam in the lead roles.
The film also features Tamil actor Anandraj in a negative role, and Kunaal Roy Kapur and Manasvi Mamgai in supporting roles.
Despite featuring Ajay and Sonakshi the film has failed to impress critics. According to critics, the film is a mixture of Prabhu Deva's all films, including "Wanted", "Rowdy Rathore" and "R... Rajkumar".
The songs, dialogues and storyline have also failed to impress reviewers. Overall, viewers can skip the movie if you are not a fan of action movies or Prabhu Deva and Ajay-Sonakshi.
Read the reviews below:
Manjusha Radhakrishnan of Gulf News said: "There's no easier way to say this: but Ajay Devgn's latest film is traumatic and is an endurance test of the worst kind.
"There's no redeeming feature in Action Jackson, a film that's purely self-indulgent. Skip it."
Lokesh Dharmani of Masala said: "if your idea of good action is shoving a sharp knife into someone's mouth, down his throat cutting his intestines. If your idea of a good humour is Sonakshi Sinha desperate to see a naked Ajay Devgn. And your idea of good music is songs like Keeda, Chichora Piya and Surya ast Punjabi mast, then, one, I am FURIOUSLY judging you. Two, I AM STILL JUDGING YOU!!
Sneha May Francis of Emirates 24/7 said: "Nothing quite prepares you for Prabhudeva's 'Action Jackson'. Not even the peculiar title that attempts to glorify Bollywood's love for heroes who can fight like Superman, and dance like Michael Jackson.
"What can I say, it's just one of those movies that need to be left unwatched."
Sweta Kaushal of Hindustan Times said: "To put it briefly, watch Action Jackson if you are a Prabhudheva or Ajay Devgn fan, because otherwise there isn't a single dialogue you haven't heard and this is one of the films where they say 'Do not take your brains to the theatres'."
Prateek Sur of BollywoodLife.com said: "o far, its quite confusing as to who is the good and the bad one is among the two guys. So far the storyline isn't clear. Yami Gautam has a meatier role than Sonakshi. The songs are oddly placed and come in at inappropriate intervals further confusing the audience. The only thing that saves the film are the comic punches between Ajay and Kunal Roy Kapur."
Surabhi Redkar of Koimoi.com said: "Truly putting it down, this movie is worth your watch for what I would list down as only two reasons. A) You are a die-hard Ajay Devgn fan. B) You are a fan of 'no-brainer' movies. (Literally 'no-brainer')"
Raja Sen of Rediff.com said: "Action Jackson is a drinking game of a film, one well over the so-bad-it's-good line, its main merit being that in a sea of superstar-massaging vehicles, it holds some genuine surprises -- and makes sure its hero looks like a jackass."
Bollywood Hungama News Network in its review said: "Prabhu Dheva, seems to have gone all out to infuse every possible element in this film and has tried to mount it on the same canvas as that of WANTED, ROWDY RATHORE AND R... RAJKUMAR! The sad part is that this time round, he fails miserably and falls flat on his face."