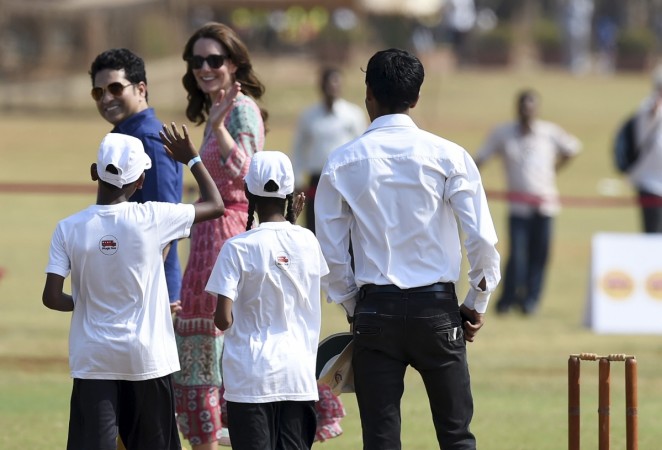 Cricket legend Sachin Tendulkar is making his celluloid debut and we all will witness that by the end of the year. The 'Master Blaster' unveiled the first teaser from his biopic 'Sachin: A Billion Dreams' on Thursday.
Starting a new innings in life is bound to be challenging and Tendulkar also, like everyone else, feels the pressure. The 'little master' has admitted that playing cricket is much easier than acting, as performing according to the script in front of the camera is something he is not very accustomed to.
"For so many years, I did whatever I wanted to do and camera captured that. But then suddenly, I was asked to do particular things, and then camera captured that," Tendulkar was quoted as saying by the IANS.
"That was a bit difficult thing for me. But believe me the first option [playing cricket] was a better option. Acting is not something which I dreamt of. Without any doubt it is more challenging for me than playing cricket, I enjoyed that (cricket) more," the 42-year-old added.
#SachinTeaser became the top trender on twitter on the Bengali New Year Day and the minute-long teaser was soon shared by top Bollywood stars including the likes of Ranveer Singh, Arjun Kapoor as well as current India cricket stars Virat Kohli and Ajinkya Rahane.
A Mumbai-based production company '200NotOut' has masterminded the movie, which is directed by James Erskine, of Shooting for Socrates (2014) fame. The music director of the movie remains the 'Mozart of Madras', AR Rahman.
This is the third movie so far based on the life of a cricketer to be released this year. While the Emraan Hashmi-starring 'Azhar', based on the life of Mohammad Azharuddin, is scheduled for a May 13 release, the Sushant Singh Rajput-starrer 'MS Dhoni: The Untold Story' is expected to hit the screens this September.