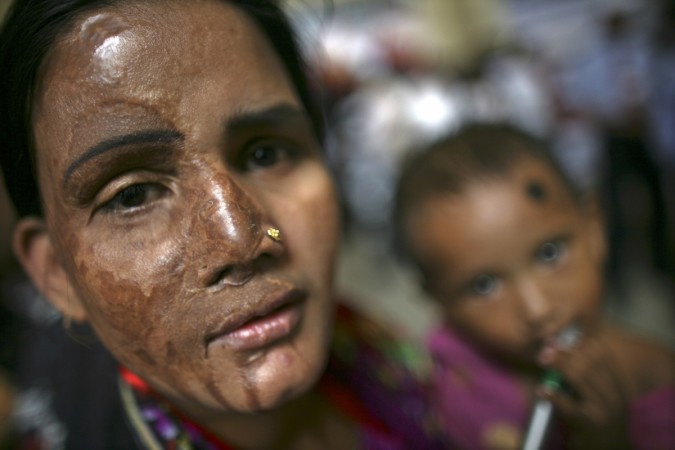 The government perturbed with the growing number of acid attacks on women is planning to categorise such cases in the heinous crimes bracket and fix a time-frame for investigation and trial for speedy justice.
A Home Ministry statement said on Wednesday that the cases where maximum punishment of life imprisonment or death sentence is possible will be categorised as heinous crimes. A person convicted for acid attack is sentenced to imprisonment for ten years or life, as per the Criminal Law (Amendment) Act 2013.
The statement said that Home Minister Rajnath Singh, worried about the victims of acid attacks, has taken decisions to strengthen the legal and administrative framework, reports DNA.
A number of steps have been taken by the government for regulation of the sale of acid, increase in punishment for perpetrators of acid attacks, and compensation for the victims.
The Home Ministry in consultation with the Ministry of Health and Family Welfare, and the Ministry of Finance and Insurance companies, will develop a new mechanism so that victims of acid attacks are treated on a cashless basis and the treatment amount is paid from the central victim compensation fund, the set up of which is on the cards.
Steps will be taken to include acid attack victims in the category of physically challenged persons/persons with disability, so that they can access the benefits of reservation, self-employment loan, training etc, which will help in the rehabilitation of acid attack victims.
So far, several states - Karnataka, Kerala, Maharashtra, Haryana, Punjab, Sikkim and Arunachal Pradesh - have framed rules to regulate the sale of acid and corrosive substances.
However, acid is easily available in Delhi, Bihar, Uttar Pradesh, Madhya Pradesh and Bihar.
Though no official statistics are available about the number of acid attack cases, an estimated 400 such cases are registered every month across the country.
Acid throwing is an extremely violent crime, according to a report of the Law Commission, by which the perpetrator of the crime seeks to inflict severe physical and mental suffering on his victim.