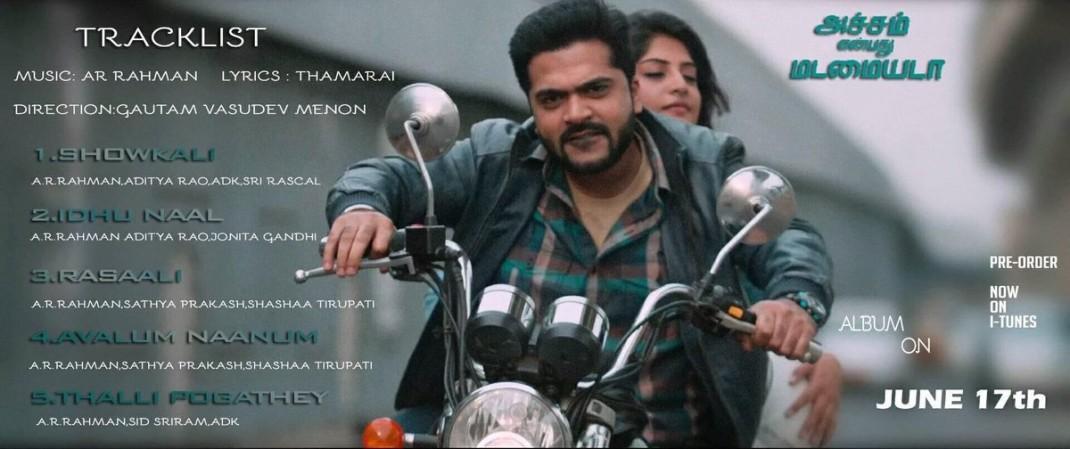 Cast: Silambarasan, Manjima Mohan, Baba Sehgal
Direction: Gautham Menon
Music: AR Rahman
Rating: 3.25/5
Acham Enbadhu Madamaiyada (also called Achcham Yenbadhu Madamaiyada/ Acham Enbathu Madamaiyada/ AYM) is a movie that has been long-awaited by Silambarasan (Simbu) fans. Director Gautham Menon's Acham Enbadhu Madamaiyada is a bilingual film that has been released in Tamil with Simbu, and introduces actress Manjima Mohan.
Simbu is a young man who despite having completed his MBA sits idle at home just hanging out with friends. While his friends are busy romancing, he has not had great luck in that department with three failed loves to his credit. He confesses that he doesn't understand women at all despite having two sisters. He holds onto the belief that true love will strike him as lightning one day. True to his words, love does hit him when he meets his sister's friend Leela (Manjima Mohan).
Leela comes to live with their family and Simbu's friendship with her grows. He dreams of going on a road trip on his first love — his bike — before he takes up a job and starts making plans. Who goes on this road trip with him? What happens on this journey? How does it change his life? Do he and Leela end up together?
At the outset, this Gautham Menon film is unlike his previous ones and this is really not surprising. The director is known for his romances and this film too has a romantic tale. But it's not a college romance or a straightforward romance — there is a lot more left unsaid than said and that is what makes this interesting. A lot of action has been infused into this story, especially in the second half. All of it revolves around the romance, of course.
Simbu has played his role very effortlessly. This role is a tad more mature than his earlier ones and he lives up to audience expectations with his performance. He is not loud and brashy but soft, strong and in control. Simbu's character undergoes a transformation and we see that the talented actor is in top form. His subtle sense of humour and lines are not to be missed. However, had Simbu slimmed down, it would have added much more to his on-screen charm.
His co-star Manjima Mohan has made a commendable debut in Tamil cinema. The role of Leela allows us to see various shades of emotions and Manjima is very convincing. At no point do we feel she is a newcomer as she has lived the role of Leela.
Singer Baba Sehgal has made his debut in Tamil films as well, playing a cop in this flick. Given his bald look and loud Marathi dialogues, it's not hard to picture him as a cop, albeit a corrupt one.
Acham Enbadhu Madamaiyada is a little slow in the first half and it's during the halfway point that the twist to the entire story emerges. But the second half picks up in pace as the entire story is revealed. The dialogues are one of the highlights of this as are the songs by AR Rahman (especially Showkali and Thalli pogathey). As you watch the film, you feel the story seems to have been woven around the dialogues of Simbu.
The movie is a treat for all Simbu or STR fans and those who want to see a film that is not the usual masala entertainer.