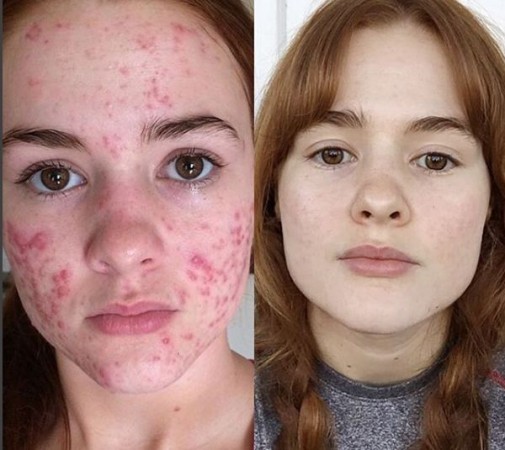 People with acne, a skin condition that causes spots and pimples, are often considered "unattractive," but a 22-year-old Instagrammer won the hearts of millions after she shared the story of her acne journey with the world.
Kali Kushner, a student from Ohio, US, became an internet sensation after she shared photos of acne treatment. Her before-and-after Accutane treatment photos are now inspiring many people.
Kushner has been sharing photos of her treatment on @myfacestory Instagram account for almost two years now and has gained more than 29,000 followers until now.
"I honestly didn't start the account with any idea or goal of getting noticed. I was just trying to keep track of my progress as I went through my six-month prescription of Accutane," Kushner told Cosmopolitan.
"I had always had some minor acne in high school, but one month in 2014, it went full-force crazy, covering my entire face," she said. "I tried literally everything: the oil cleansing method, which is where you wash your face with oil, the caveman method, which is where you don't put anything on your face at all, plus every cream, potion, and antibiotic that my dermatologist prescribed me, but nothing worked."
After a year, she worked with a dermatologist to get on Accutane and that started clearing her skin. The treatment worked in her favour, but it also made her skin dry and she felt achy all day. She also posted unfiltered photos of her acne and soon she started receiving emotional messages and comments from the Instagram users.
"It's been crazy to see so much support from complete strangers," she said. "I just took Accutane and a bunch of selfies, but now I realise that the reason people are so dedicated to following my story is because nobody actually posts stuff like this."
"Acne is so hush-hush and shamed in society, and having clear skin is the epitome of beauty, so if you dare have a zit or a breakout—and if you dare to take a picture of it—it's almost like something's wrong with you, which is so false."
The treatment helped Kushner get a normal skin and now she is off Accutane, but the drug has its side effects, so consider a dermatologist before starting it.