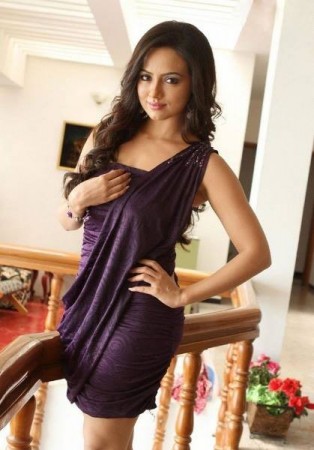 Salman Khan seems to be running out of luck on the career front, with the reports of his film "Mental" facing problems again and this time for leading lady Sana Khan.
Just when the actor had solved the issue of southern stuntmen in the film, his co-star Sana Khan has apparently taken off and is missing after a police complaint was filed against her.
According to Daily News Analysis, Sana Khan has been booked along with three others for abducting a 15-year-old minor girl.
In a complaint filed at the Turbhe police station, the girl's mother names Sana Khan, her cousin Naved and two friends Ksitij and Vismit.
The girl's family alleges that the actress's cousin Naved fell for the minor through social networking site Facebook and wanted to marry her. But after the girl refused his advances, the four accused tried to abduct the girl by forcing her into a car.
The girl managed to escape after which the family lodged the complaint.
Police have arrested three of the accused, but Sana Khan was nowhere to be found. They could not trace the former "Big Boss" contestant even at her Osiwara residence.
On being asked of Sana's disappearance, her spokesperson Ismail Sheikh denied that the actress was on the run but confirmed that an FIR was lodged against her.
Sources have reported that Sana's absence is affecting the filming of the Sohail Khan-directed film.
Sana was recommended for "Mental" after she caught Salman's attention on reality show "Big Boss". The 25-year-old came into the limelight with the Amul Macho Ad, in which she was portrayed as a kinky housewife.