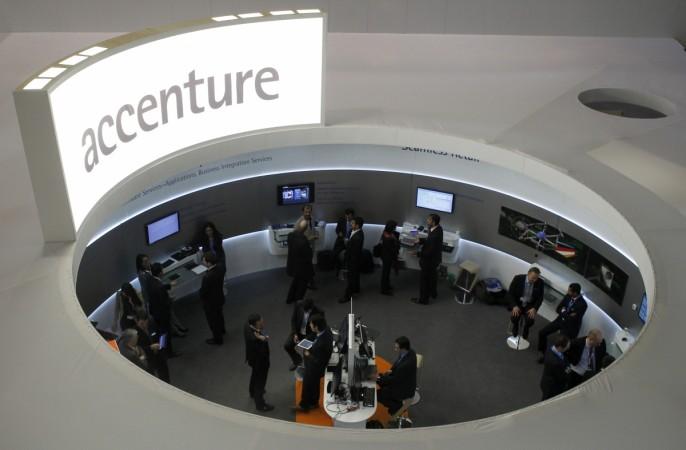 US-based software company Accenture's upbeat revenue guidance of 9 to 10 per cent for the full year seems to have lifted investors' confidence in Indian IT companies, but analysts caution against reading too much into it.
They say the company could actually be eating into the revenues of weak Indian software services firms.
Share prices of domestic IT majors such as Infosys, Wipro and HCL Tech went up on Friday following strong results announced by Accenture.
While stock prices of Infosys and Wipro rose over 1 percent, the HCL scrip gained more than 3 percent.
On Thursday, Accenture reported revenue and profit for the third quarter beating analysts' estimates.
For the third quarter ended 31 May, the company's net revenue was $7.77 billion, more than the average analysts' estimate of $7.45 billion.
The company also increased its full-year revenue guidance for the third time, indicating an improved demand for its consulting and outsourcing services.
In March, it had expected revenue to grow 8 to 10 percent for its current financial year, up from the 5 to 8 percent forecast in December 2014. Its financial year ends in August.
Analysts said that Accenture's upward revision in growth estimates reflects rising demand for IT services, a good sign for struggling Indian IT firms.
Profit margins of many Indian IT companies have come under pressure due to increased competition in the sector, besides slowing demand.
Once the bellwether of the country's $150 billion IT sector, Bengaluru-based Infosys has been struggling to maintain its market share for the past several quarters.
Some analysts warn that Accenture's robust growth may not necessarily benefit domestic IT services firms.
"Despite a larger base in outsourcing business, Accenture has been growing at more than 10 per cent on a constant currency basis for the past few quarters, indicating that it has been gaining market share against a number of India-centric players," analysts at Nirmal Bang Institutional Equities told NDTV Profit.
Earning 47 percent of its revenues from outsourcing, Accenture is in "direct competition" with the Indian firms.
Besides, Accenture is witnessing a growing at a faster clip in key markets and verticals compared to its Indian rivals.
"The broad-based growth and the fact that large deal wins (above $100 million, 33 in fiscal year-to-date) seem to be fairly spread out indicate the problems being faced by tier-1 India-based vendors like TCS (in BFSI), Tech Mahindra (in telecom) are company-specific," said financial services firm Nirmal Bang Institutional Equities.
Further, analysts said that Accenture's revenue growth in fast-growing and high margin digital vertical is also a negative for Indian IT companies.
"Accenture's lead in Digital is bad news for Indian outsourcers because spending and margins on traditional IT services (such as application development, infrastructure management, BPO), where Indian companies excelled, have been coming down," Nirmal Bang said.