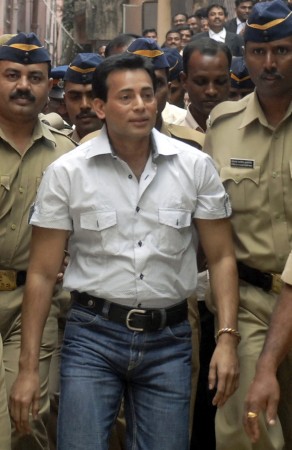 Extradited underworld gangster Abu Salem was sentenced to life imprisonment by a special TADA court in Mumbai for the murder of Mumbai-based builder Pradeep Jain in 1995 outside his Juhu bungalow over a property dispute.
According to IBN Live reports, Salem has been convicted for 25 years of rigorous imprisonment along with his driver Mehandi Hasan on the same charges.
Meanwhile, 86-year-old V K Jhamb, who is the third accused in the case, was asked to be pardoned by his lawyer Shrikant Shivde taking into consideration his old age. Shivde had submitted an application under the Probation of Offenders Act stating that Jhamb's offence could not be brought under capital punishment or life imprisonment.
Moreover, Jhamb has already served a jail term from December 2005 to September 2006.
Special public prosecutor Ujjwal Nikam had initially demanded a death penalty for Salem, which he later changed to a life sentence due to conditions of the extradition treaty between India and Portugal.
Salem's lawyer Sudeep Passbola said that as per the extradition treaty signed by India when Salem was brought to Indian judiciary from Portugal in 2005, the underworld don could not be subjected to capital punishment or imprisonment of more than 25 years.
Passbola is likely to challenge the TADA court verdict in the Supreme Court.