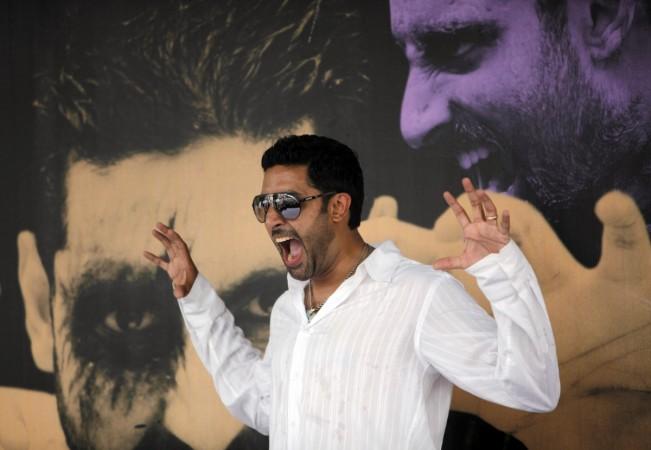 The Indian cricket team made the country proud Saturday, March 19, at the Eden Gardens in Kolkata, by winning the ICC World T20 2016 match against Pakistan. Several big personalities, including Amitabh Bachchan, Sachin Tendulkar and Mukesh Ambani, were seen cheering for the country at the stadium.
Abhishek Bachchan, too, arrived with Big B at the match and celebrated India's win with other celebrities like Sushant Singh Rajput, Aftab Shivdasani and Ayushmann Khurrana. However, Twitterati found Abhishek's presence at the match quite funny and started trolling the actor for it.
Abhishek, who has always slammed haters on social media, responded in an epic manner. A tweet that led to the war read: "Big B paid for Aftab Shivdasani's ticket so that Abhishek Bachchan isn't the least known celebrity in the stadium. [sic]"
To this, Abhishek replied: "@mainbhiengineer haha. Good try! "Least known celebrity"?Isn't that a bit of a contradiction? Chalo at least you think I'm worthy of a tweet. [sic]" This led to a battle of words, and Abhishek had the last laugh.
Take a look at the tweets here:
Earlier, Abhishek had slammed comedian Karan Talwar, who had sarcastically tweeted about him: "Life is not about answers but questions. Where is my career going? Am I making enough money? Why am I still following @juniorbachchan? [sic]"
To this, junior Bachchan gave him a fitting reply: "Here are the answers: 1. Nowhere 2. For your skill set? Hell yeah! 3. I don't know. I unfollowed you years ago." Click here to read the war of words between these two on social media.
Meanwhile, Abhishek is shooting for "Housefull 3" alongside Akshay Kumar and Riteish Deshmukh.