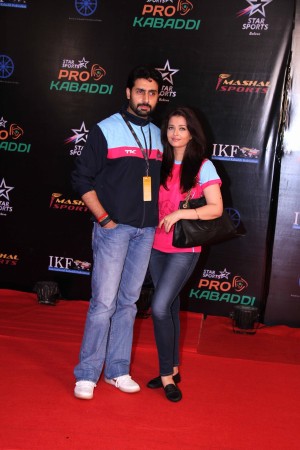 Aishwarya Rai Bachchan announced her comeback film "Jazbaa" in May, but not many know that her husband Abhishek Bachchan is the reason behind her signing that film.
In an interview with The Times of India, director Sanjay Gupta revealed how the former Miss World, Aishwarya Rai, signed the dotted line.
Apparently, Abhishek and Gupta had planned to come together for a project and often discussed about it. While discussing about the film, Gupta told Abhishek that he bought the rights of a foreign film.
Gupta also told him the story and said that he wants to cast Aishwarya as the female lead.
"Abhishek loved the story and wanted to know who I had in mind for the female lead. I told him, 'It would be great if Aishwarya could do it'. To my surprise, he asked for the film's copy," Gupta told TOI.
Almost seven days later, Abhishek called the director and said that Aishwarya has agreed to do the film.
"Aishwarya too spoke to me. Subsequently, I visited their home to discuss the details," Gupta said.
The actor-director duo announced about the film "Jazbaa" in May. During her Cannes appearance this year, Aishwarya revealed that she would make her comeback with "Jazbaa", while Gupta took to Twitter to announce the news.
Yes guys it's true. Aishwarya Rai Bachchan will play the dynamic female lead in my action/thriller JAZBAA.

— Sanjay Gupta (@_SanjayGupta) May 16, 2014
The film is an edge-of-the-seat thriller and Aishwarya will be seen doing some action scenes.
The film also features talented actor Irrfan Khan as the male lead, while John Abraham will do a cameo role.
The director had two choices for the male lead role - Arjun Rampal and Khan - but Aishwarya suggested him to sign Khan.
"I discussed it with Aishwarya. We could either go the Arjun way or the Irrfan way. Aishwarya liked the idea of casting the latter," he said.
Gupta's directorial film will go on the floors early next year and the first look will release in May.