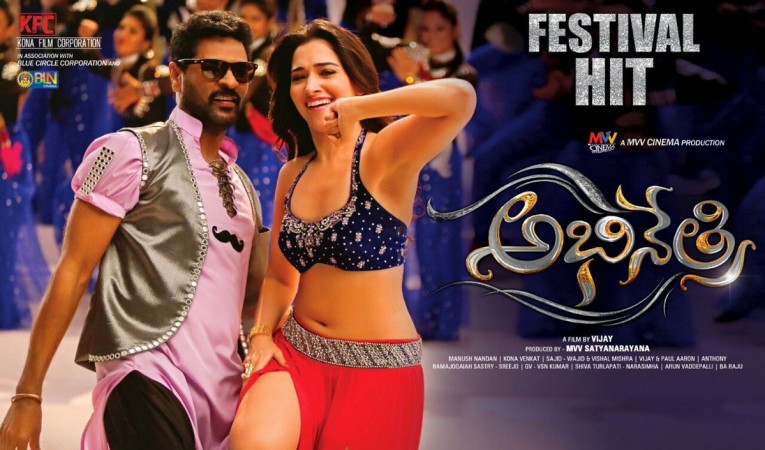 Prabhudheva, Tamannaah Bhatia and Sonu Sood-starrer Telugu movie Abhinetri, which was released in theatres on October 7, has received good reviews and decent ratings from critics.
Abhinetri revolves around the story of a village guy Krishna (Prabhudheva), who works at a corporate company in Mumbai. He wants to marry a modern girl, but ends up tying the knot with Devi (Tamannaah) due to family pressure. He stays with her in an apartment, but soon Devi starts behaving like a different person and lures superstar Raj (Sonu Sood), who signs her up for his next film. What happens next forms the crux of the story.
Written by director AL Vijay, Abhinetri deals with a simple and tried-and-tested story, but the screenplay with lots of twists and turns makes it an interesting horror comedy movie. The first half of the film is entertaining, the revelation of the truth before interval makes the second half predictable, say the critics.
Prabhudheva, Tamannah Bhatia and Sonu Sood have given wonderful performances, which are the highlights of the movie. Saptagiri, Prudhviraj and Sathish, who are in supporting cast, are also impressed in the movie, which has rich production values, say the critics.
Abhinetri has been rated an average of 3 out of 5 stars. We bring you some critics verdict and ratings. Continue to see them in the Abhinetri movie review round-up:
The Hindu Ratings: 3.25
The director is in terrific control of a product that's vivid and chirpy throughout. Abhinetri is his first outright commercial film to date and he packs a good punch.
India Glitz Ratings: 2.5
'Abhinetri' is lazy for the most part. Banks too much on the dancing brilliance of PD and Tamannah, besides Vijay's Kollywoodish comedy delivered by Tollywood's Sapthagiri and Prudhvi. PD delivers an outdated act. The climax portions hold interest.
123 Telugu Ratings: 3
Abhinetri is a very simple tale that keeps you occupied (if not entertained) for its two hours duration. if you ignore the few gltiches here and there, it is a movie that can be watched once.
Gulte Ratings: 3.25
Abhinetri can be watched for its innovative story line and entertaining first half. A thrilling second half would've helped it to work wonders, but the director's aim is to tell a story rather focusing on crowd pleasing elements. If you're planning to watch Abhinetri then don't expect it to be another horror comedy filled with lot of gags and ghost jokes. It is just a Plain-Jane comedy drama with a ghost in it.