Director Dibakar Banerjee's latest offering "Shanghai" has received rave reviews from all the well-known film critics. The story deals with patriotism, which has taken a different form compared to the times when our leaders were fighting for independence.
Dibakar Banerjee has come with a different plot and a different storyline in "Shanghai", starring Emraan Hashmi, Abhay Deol, Kalki Koechlin and Prosenjit Chatterjee.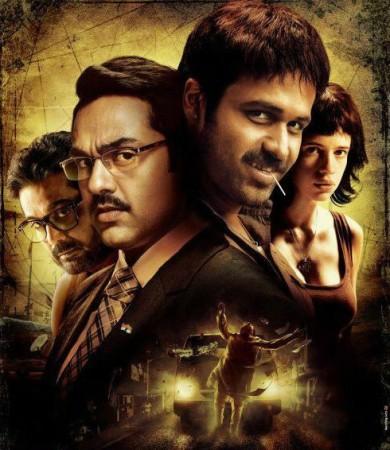 The movie is a mockery on the Indian political system and Banerjee has tried to bring out the nexus between political parties and criminals . Although the film opens on a dull note at the box office, it manages to strike the right note as far as the film critics are concerned.
Raymond Ronamai reviewed "Shanghai" for IBTimes and he has strongly recommended this movie as a 'must watch' film for its message.
"The first half of the film is a bit slow but it catches the momentum as the story progresses. On the whole, "Shanghai" is a "must watch" film for its message though it may not break box office records," said Raymond Ronamai.
Here follows the round-up of reviews from other established film critics:
Rajeev Masand, film critic and an entertainment reporter for CNN IBN, has rated the movie as watchable for its detailed narrative technique and has all praise for the performances of the artists in the movie, especially Abhay Deol, who has added a different layer to his character with a 'wobbly' Tamil accent.
Masand feels that the climax is a 'tad underwhelming'. However, he reviews that film is still watchable for what it is. "Shanghai" is consistently watchable despite these lapses," said Masand. "It's a good film from one of Hindi cinema's most exciting filmmakers, just not great." He has given three-and-a-half out of five for "Shanghai".
Taran Adarsh, an establish trade and movie analyst, in his review for Bollywood Hungama has appreciated film director Banerjee's skill and ability to adopt a novel based on the Greek society and making it contemporary so that it is relevant to the present situation in the country.
"Banerjee detected remarkable similarities between the Greece in the book and the India of today, procured its rights and acclimatized the account to a metropolis in India," said Adarsh.
He said that political thrillers are a much abused genre but this is an exception. He also added that this movie deals with two sides of same coin and the differences are shown through two characters played by Emraan Hashmi and Abhay Deol.
"On the whole, "SHANGHAI" is undeniably one of the most politically astute films ever made. It keeps you involved and concerned right from its inception to the harrowing culmination. This is not your usual Bollywood masala film, but a serious motion picture that has a voice, that makes you think, that makes a stunning impact. A must watch!" said Taran Adarsh.
Anupama Chopra, reviewing for Hindustan Times, said that the name 'Shanghai isn't a title but a state of being a metaphor and an aspirational fantasy. She appreciated the performances of Emraan Hashmi and Abhay Deol. She labelled "Shanghai" as a 'brutal' story, however, suggested that the filmmaker and the writer have played this politically gory subject with 'minimal drama.'
Chopra said that the audience needs to have patience while watching the film as the movie picks up fast pace gradually and promises a worthy watch.
"Shanghai" doesn't provide the comfort of answers or happy endings. But it forces us to ask urgent questions. It is the best Hindi film I've seen this year. I strongly urge you to make time for it," said Chopra.
Gaurav Malani from Times Of India said that the premises of "Shanghai" is not something new for the movie goers, however, the director's offbeat take on the subject and impeccable understanding of the milieu makes it a decent watch.
Malani said that this movie has taken Emraan Hashmi out of his usual lover-boy look and the actor has totally altered his mannerisms, attitude to wild dance, presenting himself in a never-seen- before role.
He said that Abhay Deol and Kalki Koechlin have done justice to their given roles, with neither of them overplaying their characters.
"Dibakar Banerjee has consistently raised the bar with each of his releases. Though he doesn't outshine himself this time, "Shanghai" is a compelling watch!' said the film reviewer for TOI.
Saibal Chatterjee from NDTV has given all praise for the performance of the star cast, including Emraan and Deol, who have transformed to a new look and have redefined themselves as actors.
He said that "Shanghai" has dared to defy the conventions of its chosen genre. He added that the film is a "no-frills but searing political thriller that is under-wired with intelligence and nerve, both cinematic and ideological."
"The performances, especially those by Abhay Deol (despite his dodgy Tamilian accent) as a man who can clearly see what is wrong but is prevented by bureaucratic red tape from spilling the beans and Kalki Koechlin as the woman who seethes in anger but, like all the others in her camp, is utterly helpless, add to the consistently edgy quality of 'Shanghai'," said Chatterjee.
"Emraan Hashmi, stained teeth and slouchy gait, is stripped of his lady-killer demeanour. He's none the worse for it," he added.
If you're not interested in a masala entertainer and in the mood to watch a realistic and serious film this weekend, then don't miss "Shanghai."