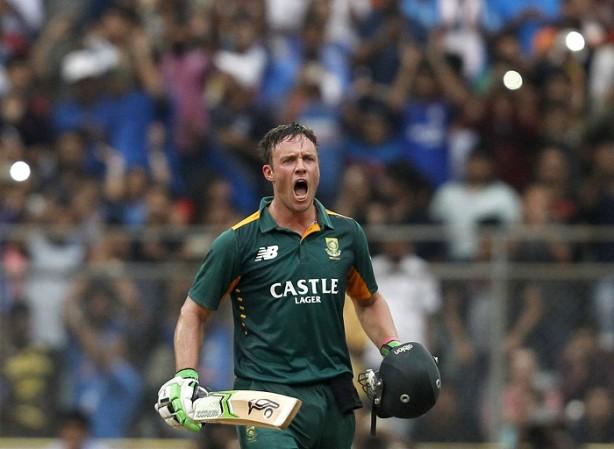 The Rapport newspaper claimed on Sunday that several former teammates of AB de Villiers have reportedly said he is considering retirement from Test cricket as he is unhappy with the current South African system.
A similar rumour added a couple of extra wings to the report as it spread across the globe.
However, cricket's Mr 360 degrees brushed aside all the rumours on Monday and said they are baseless.
However, he did say that he wants to reduce his workload across all formats of the international game.
"There are a lot of rumours flying around I hear, but for the last two-three years the only talk I've been doing is to keep myself fresh and to have a bit of rest here and there," De Villiers told Mike Haysman on Monday. "It's always been the most important thing for me to enjoy my cricket. It's just important to look at the schedule moving forward, that's the talk in the camp and for me maybe not to play all kinds of cricket."
De Villiers also said the Indian Premier League (IPL) does take a toll on his fitness. He is also considering giviing the IPL a miss, if needed.
"If I play all the IPL games the whole season, I do get a bit tired towards the end. That's the only thing I've been talking about in the last while. To keep myself fresh and to keep enjoying the game. I love representing my country and nothing has changed," said De Villiers.
He will always be a crucial player at the top of the order for the Proteas in the T20 format as he has donned the new role of opener. He will have to stay fit until the ICC World T20 2016, which will take place in India. And the ninth edition of the IPL starts immediately afterwards.
De Villiers features for Royal Challengers Bangalore (RCB) in the IPL, and everybody knows what he is capable of in the middle of the batting order in the shortest format of the game. If De Villiers really wants to give the IPL a miss, RCB fans will be heartbroken and so will Indian cricket fans who love to see him bat in the country.
De Villiers made his Test debut back in 2004 and has since played 98 straight Test matches until July 2015, when he gave it a miss against Bangladesh on the eve of the birth of his first daughter.