Union Finance Ministry has launched a multi-utility app dubbed as Aaykar Setu. As the name suggests, Aaykar (income tax) Setu (bridge) in Hindi intends to connect citizens to a host of tax-related services right on the smartphones.
It is currently available in Google Play store for Android (v5.0 Lollipop and later) phones and also there is a desktop version for computer users, as well. Apple iOS app variant is expected to be rolled out soon.
With the Aaykar Setu app, users can apply for a new PAN (Permanent Account Number) card, file Income Tax returns, link Aadhaar card to PAN, and also ask for queries to the tax officer directly (Monday to Friday between 10 am to 6 pm). To make it more user-friendly, the Income Tax Department has incorporated intelligent chatbot to offer instant replies to users' queries, which is active 365 days a week.
Citizens can also get access to location and contact details of nearest TRP (Tax Returns Preparer), as well.
In addition to services, There is also in-house infotainment game, Tax Gyaan, which sheds light on various aspects of tax payment via multiple-choice questionnaire.
"This is a very important step forward by the CBDT (Central Board of Direct Taxes) and the principle reason being technology as a very powerful tool becomes an enabler. Most of the work an assessee can discharge without any external help sitting at home," Arun Jaitley, Finance Minister of India, said in a statement.
"The app reduces the physical interface between assessing officer (AO) and assessees. Physical interface has many unintended consequences — it is time-consuming and can lead to improprieties," Jaitley added.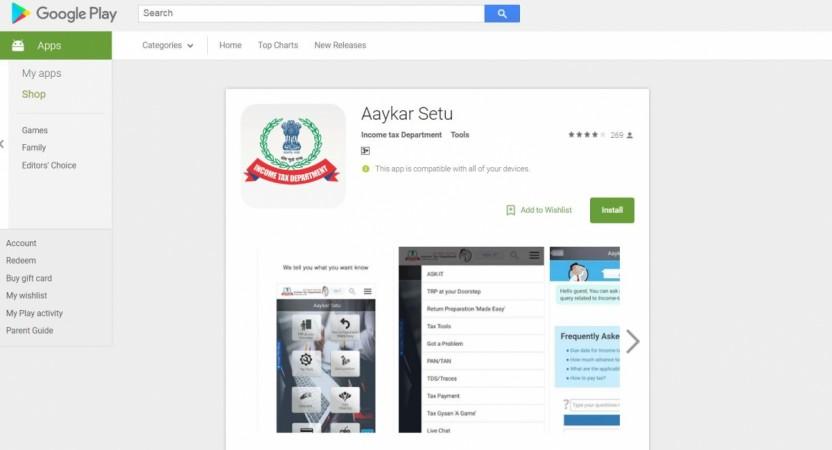 Salient features of Aaykar Setu:
It offers CHATBOT to provide instant answers to the queries raised by taxpayers.
Available on 24 X 7 basis 365 days;
Unique functionality of keyword based search
TPS (Tax Payer Services) Vertical - Contains information about all the TPS offices across India. The taxpayer can locate the nearby TPS office through this feature;
Users can locate your nearest TRP (Tax Returns Preparer) in just a click. Taxpayers can get Name, Email ID, Contact Details of TRPs along with its location on Google Map
Tax Tools – Provides quick calculation on mere input of basic information available to taxpayers;
Return Preparation Made Easy, PAN/TAN, TDS/TRACES, Tax Payment– Provides filtered result based on users requirement.
Users can apply for PAN, Pay Taxes, Submit Grievances from 'Aaykar Setu';
Live Chat – In case users have any query they can use the Live Chat option. This facility will be available from Monday to Friday from 10 am to 6 pm.
'Tax Gyaan' game will help users learn about Income Tax. It shoots Multiple Choice Questionnaire to provide knowledge to the users. The game is divided into 4 levels Beginner, Normal, Hard, and Difficult.
Watch this space for more updates on new e-Governance services.