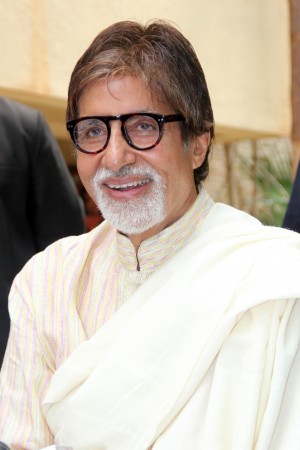 Amitabh Bachchan got a cute little surprise on his 71st birthday from his granddaughter Aaradhya, as the smallest member of the Bachchan family wished Big B by singing "Happy Birthday" on Friday midnight, along with other members of the family.
Aaradhya sang "Happy birthday" for herself first, before singing it again for her grandfather.
"A strange calmness descends on the eve of the clock that strikes 12 midnight... the family, the few that are in town, bring in the greetings, the 'little one' ably tutored sings a 'happy birthday' to herself first and then after suitable prompting, to me... its these little moments that make up a birthday... the bigger moments follow... the gifts of love and affection from the Ef, from those that we know and cannot see or meet," Big B wrote on his blog.
Bachchan bahu Aishwarya Rai taught Aaradhya the birthday song, Amitabh told reporters during a press conference at his residence "Janak" in Mumbai. Big B also thanked his well wishers and fans who wished him on the day.
"It cannot be any better than the presence of the heavens about me... my well wishers... they go through so much personal effort to prepare that personalised card that touch of handicraft, a little something, so thoughtfully put together .. I thank the english language for constructing this expression of 'thank you' or my own tongue in the gentleness of a 'anek anek dhanyavaad," he said.
Last year, Aaradhya was just nine months old on her grandfather's birthday but this year the little one gave a really pleasant surprise.
Check out the video of press conference here: