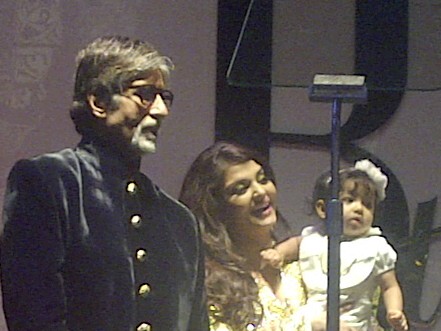 Bachchan's fans and the media finally got a complete glimpse of Aishwarya and Abhishek Bachchan's 11-month-old daughter, Aaradhya, on Wednesday night.
Over 800 guests attended the 70thgrand birthday bash of Bollywood megastar Amitabh Bachchan, but it was Aaradhya who turned out to be the centre of attention at the party.
Aaradhya appeared all geared up for grandfather's birthday in a cream dress, shoes and a white ribbon. The party organised by Jaya Bachchan was celebrated in true filmi style which was more like a red carpet event.
Politicians, bureaucrats and well-known personalities from the Hindi and South film industries dressed in their best outfits to attend the event at Reliance Media works in Film City, Goregaon.
Although it was Big B's birthday, the event turned out to be a real surprise for fans and media when Aishwarya publicly showed Aaradhya's face to the world for the first time. She and Jaya were often seen holding the little angel during the entire event.
"It is glamorous 70 and we all are really happy to be here celebrating his birthday with family, friends and everyone," Abhishek said, according to Press Trust of India.
"We all are really happy that everyone has come today to celebrate his birthday. We are thankful to everyone for their presence," Aishwarya said.
The event saw celebrities like Shahrukh Khan, Rajinikanth, Chiranjeevi, Sridevi, Madhuri Dixit, Tabu, Ramesh Sippy, Dilip Kumar, Vinod Khanna, Hema Malini, Pran, Jeetendra, Waheeda Rehman, Prem Chopra, Randhir Kapoor, Rishi Kapoor with wife Neetu, Karan Johar, and Preity Zinta among others.
From political field Mulayam Singh Yadav with son Akhilesh, Chaggan Bhujbal, Uddhav Thackeray with wife and son were among those who attended the party.
Amitabh took to Facebook to thank his fans and friends.
"I come to express my grateful thanks to all that have wished me, and merely say this ...Without you my life would have been incomplete. The blessings of the Almighty, the affection and care and upbringing of my parents and my family, and the deep love of my well wishers have kept me all. I am whatever I am today because of all the above ... it has been so from the beginning, it shall remain so till the end," he wrote on his Facebook page.
.