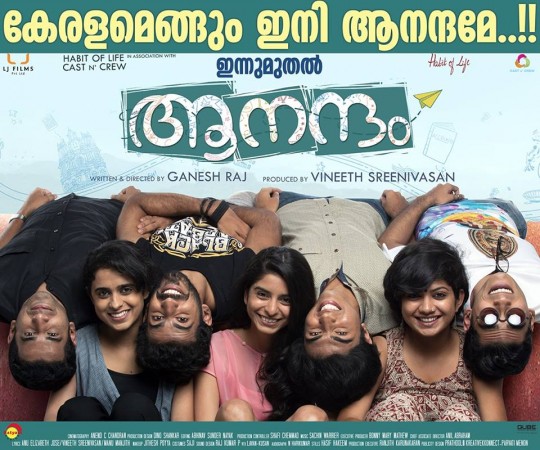 The Malayalam campus entertainer Aanandam, which narrates the incidents that happen during a four-day trip of a few engineering students in Kerala, was released on October 21. The debut directorial venture of Ganesh Raj, has been garnering positive response from the audience and critics alike.
Aanandam, which marks the debut of actor-singer-director Vineeth Sreenivasan as a producer under the banner of Habit of Life, is said to be a simple story with lots of freshness in the way it is presented. The audience have also been lauding the performance of the seven debutants -- Arun Kurian, Anu Antony, Thomas Mathew, Roshan Mathew, Siddhi Mahajankatti, Vishak Nair and Anarkali Marikar -- who play the lead roles in the campus movie.
Check Aanandam celebrity review
The movie has been tagged as a feel-good entertainer that will bring smiles throughout the two-hours. Critics have been comparing it with superhit Telugu movie Happy Days (dubbed in other languages), which was considered as the benchmark of the movies under the campus entertainer, and say Aanandam is much better than the Varun Sandesh and Tamannaah-starrer.
Check out what critics have to say about Aanandam:
Aanandam from debutant director Ganesh Raj is a really pleasing entertainer feel good
movie. Baring its posh backdrop, there is very less to complain about Aanandam. Aanandam
has done justice to its title. It has enough entertainment and enlightenment to make you
happy. It is thoroughly enjoyable for those who did BTech and is a passable one without
much regrets for the rest.
Ganesh Raj's brilliant script along with an amazing making will make you smile throughout
the movie. The varying shades of happiness are best portrayed by each of the character
and probably the casting. There is a freshness in each frame as Anend C Chandran's camera
safari along with Sachin Warrier's music. Deliciously shot and superbly narrated,
Aanandam will be one of the riveting movie experience that one can get to see. And for
those who are missing college life, this will make you all the more nostalgic.
The story has an average first half, a salt n pepper second half with some smashing
music, interesting-but-expected cameos and moments that make you reminisce your college
days. Director Ganesh Raj deserves to be appreciated for taking aboard a cluster of fresh
faces in his debut venture. Not that they set the screen ablaze from the word go, but the
performances come across as earnest and endearing, as the movie reels ahead.
As a story, Aanandam doesn't boast about a plot with lots of depth in it. It just is a
film that celebrate love, friendship and youth through the events that happen through the
journey. The presentation looks neat and clean and it is here that the movie scores
Excellent cinematography and good background score and songs added icing on the cake and
making the movie a beautiful and feel good one. The movie is just two hours in duration
and there is no space for boredom at any stage. Editing was also done quite well. The
color tone and presentation was apt for a youth movie.