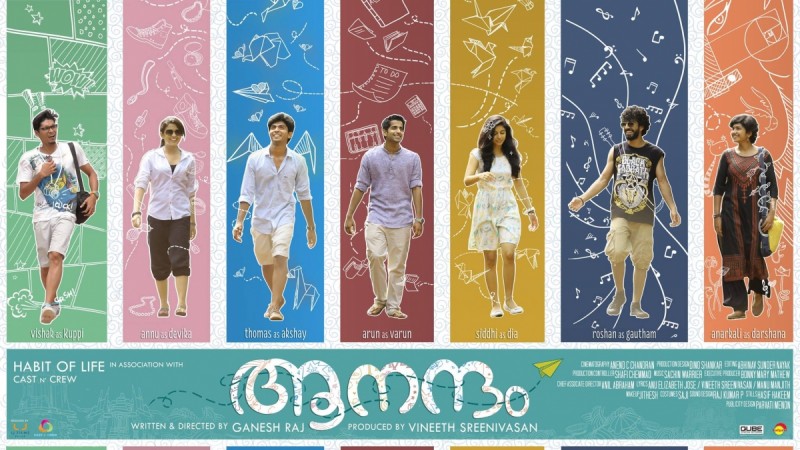 Malayalam movie Aanandam has received a tremendous response from the audience and critics alike upon its release in Kerala on October 21. The campus movie, helmed by debutant Ganesh Raj, has also been lauded by celebrities, who call it a beautiful feel-good entertainer.
Celebrities, including actors Nivin Pauly, Kunchacko Boban, Aju Varghese, Ahmed Sidhique, directors Jude Anthany Joseph, Anil Radhakrishna Menon, Anvar Sadiq and Roshni Dinaker, who watched the movie on the first day, have appreciated the team of Aanandam on their social media pages.
Nivin, who appears in a cameo role in Aanandam wrote on his Facebook page: "⁠⁠⁠The sheer happiness of reliving the college days for 2 hrs. That was 'Aanandam' for me. There was a refreshing cool breezy feel throughout the movie. Beautiful frames well knit into a melodic musical narrative about friendship and love. About conquering inner fears and being yourself. About relishing the best moments in campus. Anend, Abhinav, Sachin - Loved your work :) Rony bro - your best till date !! Congrats to all the new actors Vishak Nair Arun Kurian Thomas MathewRoshan Mathew Annu Antony Siddhi Mahajankatti Anarkali Marikar :) Producer sir - As always you gave your best !! & Mr Ganesh Raj - You marked your entry in style :) The film brings a smile on your face as in the name. Thank you for this treat brothers !! Ini anandamee :):):)."
Aanandam stars seven debutants in the lead roles and Kunchacko Boban has welcomed them to the industry. "Welcome newbies to the Malayalam Movie family," the actor posted on his Facebook page.
Aju calls it a sweet, refreshing and entertaining movie. Jude, who is known for his directorial ventures Om Shanti Oshaana and Oru Muthassi Gadha, has named Ganesh as the best student from Vineeth Sreenivasan School. It has to be noted that Ganesh has worked as an assistant with Vineeth for the blockbuster movies, Thattathin Marayathu and Jacobinte Swargarajyam.
Overwhelmed with the audience response, Vineeth, who has bankrolled Aanandam under the banner of Habit of Life, wrote on his Facebook page: "Ganesh, Abhinav, Anend, Sachin.. I am proud of u guys.. I am proud of the work u did.. the team u assembled, the actors and technicians u discovered, the hope u instilled in the hearts of so many young talents longing to take their leaps into silver screen...As a friend, as a brother.. I am PROUD!! This is ur success.. and of course the rest of the team's too.. Right now, let's fly this baby up in the sky and cherish this moment.. Thank you for this Aanandam!! [sic]"
Check out what celebrities have to say about Aanandam here:
Kunchacko Boban
Very happy for " Aanandam " team....
Welcome newbies to the Malayalam Movie family.....
Really happy for Vineeth (the all-rounder) and my dear pal/relative Dr.RONY All who loves to be back to college days "JUS GO FOR IT" ❤️
Aju Varghese
Ananadam is sweet,very refreshing and throughly entertaining.
If to point out name by name I must say every single name behind the movie is special as all there works are well loved on screen by everyone who watched the movie today where is saw. A big congrats to all the debutants, brilliant performances, esp our dear Ganesh and Vineeth Sreenivasan (as its his first production venture), Vinod Ettan & Anend.
Vinay Govind
Aanandam is a breezy ride... And how the logo of 'Habit of life' was done, was one of the best moments (with due respect to the rest of the 2 hrs) my moment of the film was that... What an Idea...!! And yeah a bunch of fresh talent to watch out for.
Ahmed Sidhique
#Aanandam is a beautiful movie. Loved every frame of it. God Spede
Roshni Dinaker
Watching Aanandam.....wow.....so much fun....miss movies till am back from portugal.....am glad am watching such a cute movie....congrats team AANANDAM.
Anil Radhakrishnan Menon
Congratulations Vineeth Sreenivasan and Ganesh Raj for introducing many talents and for the success of "Aanandham"
Vishnu G Raghav
Aanandam shows total justice to its title.. Do I need to say more :)
Congratulations Ganesh Raj! For comin up with such a subtle theme,for incredibly makin it, for finding out sm really good talents, and for giving opportunities to new technicians.. Rony David Raj I'm so happy to see people praising you n u deserve it! Congratulations Vineeth Sreenivasan for being soo right about your decisions!
Congratulations to the whole team!
Divya. S. Menon
#Aanandam........it's filled with happiness and just keeps spreading happiness :) ..... Sachin Warrier you have done a fantastic job with the background scoring and all those lovely song! Ganesh Raj I see a very promising director. .you are definitely here to stay! Loved all the cast and crew and you guys have done a great job. Vineeth Sreenivasan you have done the best thing by supporting such wonderful talents! Kudos to the entire gang. #iniaanandame Aanandam :) :) :)
-