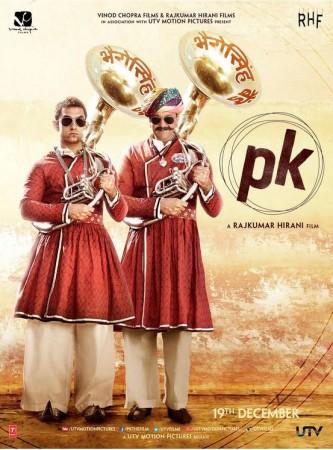 It's been more than three weeks since Aamir Khan's "PK" hit screens, but the controversies related to the film have refused to die down.
On Monday, a member of censor board said that he had objected to some scenes of Aamir's "PK" before its release but was ignored, as Shankaracharya Swaroopanand Saraswati demanded a CBI probe over how the movie got the censor board certificate.
Some censor board members on Monday visited the ashram of Swaroopanand in Jyoteshwar.
Central Board of Film Certification (CBFC) member Satish Kalyankar said he had raised objections but the board's CEO paid no heed to his concerns.
Kalyankar told reporters he had sought a meeting to register his objection before the censor board CEO, failing which he conveyed his concerns in writing to him. But the scenes were not deleted.
Kalyankar, also a member of the film screening committee, said "PK" (Peekay) violated the rules, one of which requires that a film should not contain such scenes or dialogues that hurt religious sentiments.
Films can be publicly exhibited in India only after they have been certified by the CBFC.
Swaroopanand told the media some censor board members had asked the movie to be sent for a review again. When their request was ignored, they had also written to the information and broadcasting ministry.
He said the names of the members who had objections to the scenes were left out of the film's certificate, and there should be a probe by the Central Bureau of Investigation (CBI) into it.
He said many states exempted the movie from paying tax because of 'vote-bank' politics.
On the film being financed by subversive elements from Pakistan as well as a Pakistani channel, he said he wouldn't be surprised if it were so.
(With IANS Inputs)