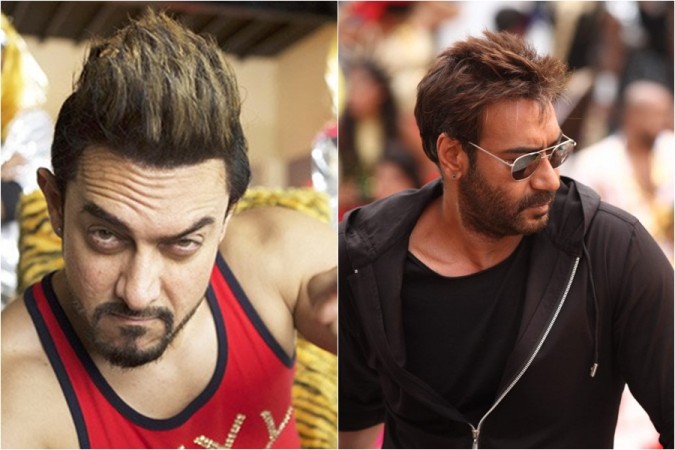 It is the Diwali season and what could be a better way than enjoying the festival of light watching the clash between Bollywood's two titans Aamir Khan and Ajay Devgn who have locked horns with their two big releases this week - Secret Superstar and Golmaal Again respectively. Though Secret Superstar has already been released in theatres on October 19, a day prior to Golmaal Again release, the two big films will surely churn out some fireworks for moviegoers as they will go head for big box office battle.
After giving a taste of akhada (wrestling ring) in his last year's hard-hitting blockbuster film Dangal, Bollywood's perfectionist Aamir Khan is back to take you on a roller-coaster ride of emotions with Secret Superstar which saw worldwide release on October 19. The movie has opened with rave reviews from the critics and audiences alike.
Secret Superstar is a story of Zaria Wasim's character Insia who wishes to make it big in the music industry with her singing talent. The young girl, however, faces resistance from her father after which she opts to follow her dreams by posting videos on social media anonymously. It also stars Aamir Khan as the quirky and colourful music composer Shakti Kumaarr who discovers Insia's talent and helps her achieve her dream by giving a platform to showcase herself in front of the audiences.
Golmaal Again, on the other hand, is all set to tickle your funny bones with its slapstick comedy on October 20. There has been immense buzz around the movie ever since its announcement. Golmaal Again is the fourth instalment in the Golmaal series which has been spreading laughter among the moviegoers since 2006. The movie has an ensemble cast of Ajay Devgn, Arshad Warsi, Parineeti Chopra, Shreyas Talpade, Tusshar Kapoor, Kunal Kemmu, Johnny Lever and Tabu in prominent roles.
As far as Aamir Khan's movies are concerned, the superstar has managed to pull a huge dedicated audience base who never misses a chance to watch his films in theatres. But that doesn't take away anything from the Golmaal series which also has cemented its position in the hearts of the
moviegoers.

If Aamir Khan is a man with the midas touch, Golmaal series also has a long back history of digging out gold at the box office. The first part in the series Golmaal Fun Unlimited (2006) grossed approximately Rs 70 crores, the second, Golmaal Returns (2008) minted Rs 108 crores and Golmaal 3 (2010) scored big by earning Rs160 crores worldwide.
Both the films have managed to grab an equal number of screens to release in theatres across the country. Both movies fall under different genre and both are having different target audiences. So both movies are going to cash in on the festive season and taste sweet success at the box office
treating their individual section of viewers with double bonanza offer to enjoy their holidays.
Though Secret Superstar started off on a low note at the box office due to festival holiday, the positive word of mouth will help the movie to elevate from its position in the coming weekend. There is no doubt that Secret Superstar earns an advantage over Golmaal because of early release, it still offers some time for moviegoers to think about their choices in theatres.
While there is no doubt that both Aamir and Ajay starrer films are going to laugh all the way to the bank, the question still remains - will Golmaal Again be able to beat Secret Superstar or vice versa at the box office race? Let's wait and watch.