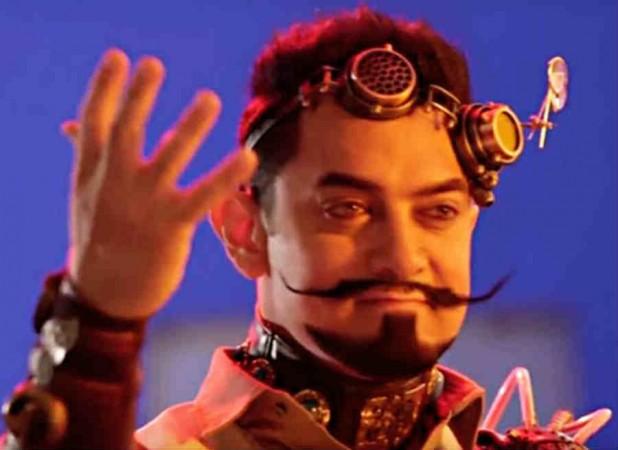 With movies like Secret Superstar, Dangal and 3 Idiots beating all records, Aamir Khan has become the unbeatable superstar.
The recent past has been a testimony of the mass hysteria Aamir and his work has generated, not just in India but worldwide too. The actor is not just a Superstar in India but also China.
With the population of 1.4 billion and 1.35 billion in China and India respectively, Aamir is undoubtedly the biggest Superstar in the world.
The record shattering earnings of his last three films PK (2014), Dangal (2016) and Secret Superstar (2017), topped the list of Top 5 all time worldwide grossing Indian Films.
While Dangal earned a whopping Rs 1,908 crore in China, Secret Superstar raked in Rs 874 crore at the Chinese box office. Aamir emerged as the most watched non-Chinese actor in China, hence proving his stardom in the neighbouring nation.
Such is the unprecedented appeal of Aamir that his work garner a huge showcase across theatres of the World along with global audience base thronging to witness his magic on celluloid.
Speaking about the tremendous love he has garnered from the adjacent nation, Aamir said, "My popularity in China happened by accident. Not many people know that it all started with 3 Idiots (2009), which reached Chinese homes through piracy. I guess they could really relate with the subject of the education system.
"Then they followed my work, including PK, and even the TV show Satyamev Jayate. When Dangal released in China, they already knew me and my work. Also, the reason why the films did such business in China is the sheer number of screens. In India. We have around 5,000 theatres, while in China there are 45,000. Even though there isn't as much difference in the population of the two countries (approx 1.35 billion in India and 1.4 billion in China).
"I play a cameo in Secret Superstar, still the film was released by the exhibitors in 11,000 theatres in China. Just imagine the scale."
Through his work, Aamir has brought India and China together, binding them with a common thread formed by Entertainment. Over the years, Aamir has been the only Indian actor to have received the tremendous love and appreciation for his films in China.
The actor has made it possible to resonate the mindset of the two nations, which is a rare phenomenon. With the love, acclaim and adulation from two of the most populated countries of the world, Aamir enjoys a massive fandom, making him a global favourite.
(Disclaimer: Content provided by PR)