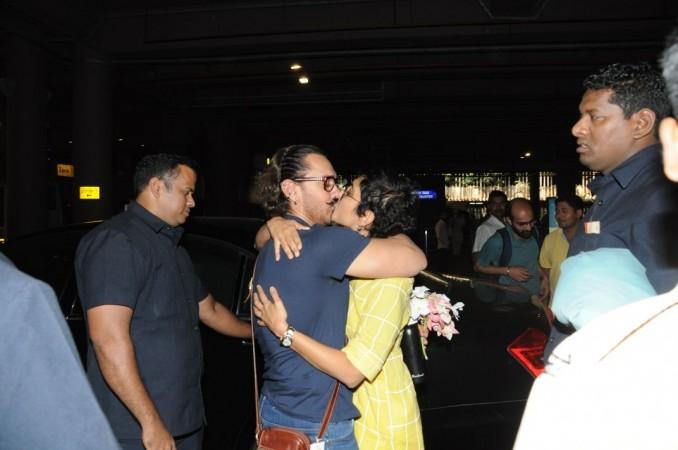 Bollywood star Aamir Khan was spotted at Mumbai airport kissing his wife Kiran Rao and this beautiful moment was captured in the cameras.
On the occasion of his 53rd birthday, Aamir returned back to Mumbai from the sets of Thugs of Hindostan. The actor was shooting in Jodhpur for the film but managed to squeeze in some time to spend his birthday with his family.
Kiran arrived at the airport to receive Aamir with flowers, and the couple then shared a lip-lock like no one is watching. The way they kissed and hugged each other spoke about their love and how much they missed each other.
Aamir and Kiran then attended a media interaction where the two spoke about a lot of things. Speaking about her liking for Aamir, Kiran said that she married him for his sensitivity and intelligence, and she never wants him to change these.
As the superstar made his debut on Instagram today, Aamir said that it was his wife who made him convinced to join the medium. He also said that Kiran has been a "major force" in his life, and she brings joy in his life.
Talking about his birthday wishes, the Thugs of Hindostan actor said that it was Amitabh Bachchan who wished him the first. He also added that he aims to change his "obsessive" personality, and quit smoking.
Aamir married Kiran in December 2005, and he has a son with her. The duo's love grew during the making of Lagaan, as she was one of the assistant directors of the film. Aamir was earlier married to Reena Dutta in 1986, but the two got divorced in 2002.