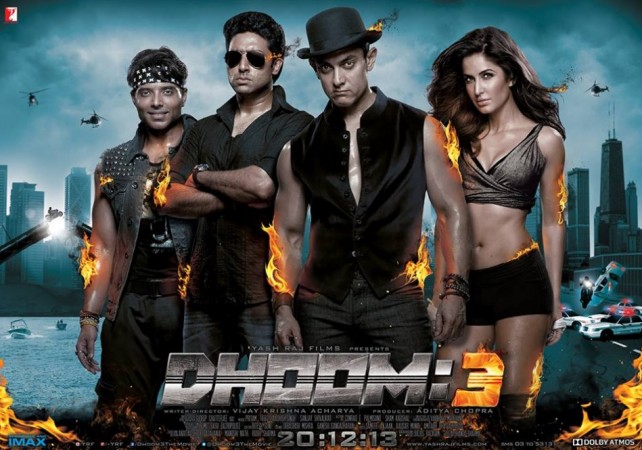 Aamir Khan, who created the coveted 100 crore and 200 crore clubs at the box office, does not expect his upcoming film "Dhoom 3" to break records at the collection centers.
"3 Idiots" (2009) was the highest grosser Indian film ever until the release of "Chennai Express" and "Krrish 3" this year. And now the spotlight is back on Aamir and the much-awaited "Dhoom 3" which is expected to set a new benchmark at the box office.
However, lead actor Aamir says he is not interested in box office numbers and just wants his audiences to enjoy the film. "Dhoom 3" team had organised a press conference in Mumbai to promote the upcoming action thriller.
The press conference was attended by lead actors Aamir, Abhishek Bachchan, Katrina Kaif and Uday Chopra. During the event Aamir stated that box office numbers do not matter to him.
"No, I have no expectation from 'Dhoom 3' (about box office collection), nor I am not thinking about that. The only thing that is most important for me is when an audience buys ticket and comes in the theater I just want them to have the greatest time they ever had. I just want them to love the film and that's what I am concerned with," Aamir pointed out during the press conference.
"I don't think audience is not interested in numbers (box office) and neither am I. It doesn't matter to me. When I look at the films that I loved like 'Mughal-e-Azam', 'Pyaasa' I had no idea what there earnings were and it doesn't matter me. What matters to me is the way those films touched me and what kind of emotions they evoked," he added.
"Dhoom 3" is slated for 20 December release worldwide and will be the last big budget film of the year. The whole team of "Dhoom 3" is extremely stressed and nervous about the release of the film.
"Dhoom 3" team is not promoting the film at any event, television, reality shows or public places. Aamir is ready to take a risk by relying only on the release of songs and trailer.
"Marketing a film is very much part of making a film and it is something which is taken care by the producer and the director. We are pegging most of our promotions on the creative strength of the film like promos and songs. Today, the audience is intelligent and they know what they want and what they don't. We respect the intelligence of the audience," he said.
Watch the video here: