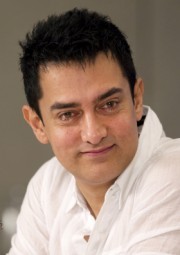 Bollywood actor Aamir Khan left Mumbai for the annual Hajj pilgrimage with his mother Zeenat Hussain on Friday evening.
The pilgrimage to the holy city in Saudi Arabia came in between the hectic schedule of "Dhoom 3" shooting in Chicago and the music launch of his upcoming crime thriller "Talaash".
Despite his busy schedule, Aamir took time to fulfil his mother's desire of going to Mecca. This will be Aamir's first trip to the holy city.
Along with Aamir and his mother, eight other family members and a Maulana left for the holy trip that would last two weeks, The Times of India reported.
The actor was seen dressed as a Hajji and took a direct flight from Mumbai that departed at 6.30 pm.
According to the newspaper, the 47-year-old actor booked a 14-day tour from Byculla's Al Khalid Tours and Travels that specialises in providing luxurious Hajj and Umrah packages to the holy land. Aamir chose the best available option and will stay with his family at hotels closest to the sacred sanctuaries. He is scheduled to return on Nov 3 and will begin promoting his upcoming film "Talaash".
"Aamir has hardly had time to rest since returning from Chicago on Thursday. He launched the music of Talaash on Friday and then left for Mecca the same evening. As soon as he returns, he will get going with promoting the film along with his co-stars Rani Mukerji and Kareena Kapoor," Daily Mail quoted a source as saying.