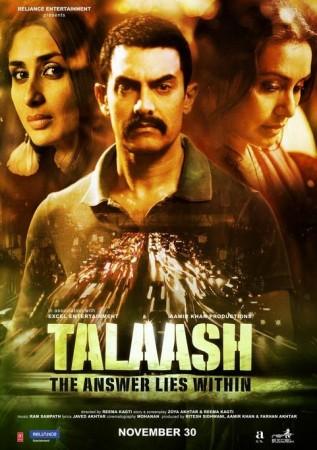 Aamir Khan and the whole team of "Talaash" have kept mum about the suspense thriller as they do not want to give any clue about the story of the movie to audiences.
"Talaash: The Answer Lies Within" is a suspense thriller starring Aamir Khan, Kareena Kapoor and Rani Mukherjee in the lead roles. The film directed by Reema Kagti also features Nawazuddin Siddiqui, Raj Kumar Yadav and Shernaz Patel in supporting roles.
On Thursday, a day before the release of the film, the team of Talaash took to social networking sites and urged people not to reveal the suspense of the film.
"Hey Guys, 'Talaash' is releasing. Hope you like it. One request to those of you who see the film, please don't let out the suspense. Thanks! Lots of love," Aamir wrote on his Facebook page.
"A humble request. please do keep the secret of #Talaash a secret so that those to follow may enjoy the full viewing experience. Shukriya," Farhan Akhtar, the producer of the film, tweeted.
"Guys pls don't let out any spoilers and please insist to the theatres that they play the sound at volume 7 for #Taalash!" director Kagti tweeted.
"If you've watched #Talaash, please don't reveal the ending. It's a request from the entire team. Thank you, awesome fans!" Talaash official Twitter said.
The murder mystery is Aamir Khan's much awaited movie after the 2009 blockbuster "3 Idiots." The movie was released on Friday and has done quite good business on a non-working Friday.
Aamir is known for unique film promotion ideas, but this time the actor chose a low-key promotion strategy to promote his film.
"I think what we had planned for the marketing was a good plan and we have moved according to the plan," the actor said, according to IANS.
"Now when the film releases, the hype that I see around the film indicates that the hype is not low it is very high actually. I am very happy with the promotions," he added.