Vishal Krishna's "Aambala", which was released worldwide on 15 January, has hit limited screens in Bengaluru. It has also failed to beat the record of Shankar's "I".
"Aambala", which is distributed by Ramu Films in the Garden City, has been released in only about 20 screens in Bengaluru. Sensing the massive craze around Vikram's "I", the distributor decided to release the film in countable screens in the Garden City.
Read: 'I' Beats 'PK' in Bengaluru
Read: 'Aambala' Audience Review
Nonetheless, the response has been good for all the shows. "Aambala" had about 75%+ occupancy on an average with the prime time shows running into packed houses. The early estimation shows that the film has managed to gross above ₹20 lakhs from the region on the release day.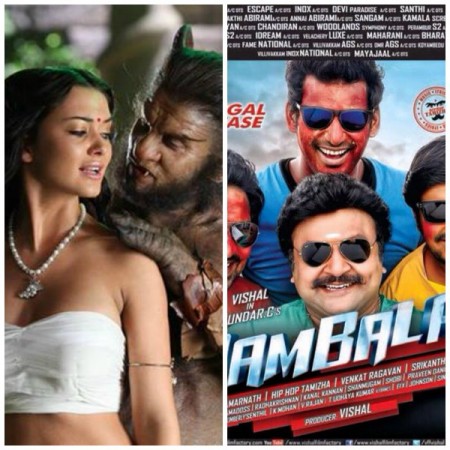 However, this collection is no match to Shankar's "I", which managed to gross close to ₹2 crore on its first day. Shankar's film ran into packed house in the majority of the shows and registered one of the biggest occupancies in Bengaluru in the recent years.
Meanwhile, the response for "Aambala" has been good in Chennai and a few other parts of Tamil Nadu. The movie has opened to mixed reviews and is now facing a lot of competition from "I" and GV Prakash's debut movie "Darling".
Meanwhile, the distributor is expected to increase the number of screens in the coming days following good response for the film in limited shows.
"Aambala" is an action-packed masala movie directed by Sundar C. Vishal Krishna and Hansika Motwani starrer movie has Prabhu, Ramya Krishnan, Santhanam, Kiran Rathod, Madhurima and others in the cast.
We have to wait and watch how "Aambala" will perform in the coming days, given the competition that it is facing from Vikram's "I" and "Darling".